File Details

File Size
0.3 MB
License
Freeware
Operating System
Windows 2000/Vista/XP
Date Added
May 4, 2012
Total Downloads
60,925
Publisher
MySpace.com
Homepage
MySpaceIM
Publisher's Description
MySpaceIM lets you instant message your MySpace friends anytime. It includes One-Click login to mail, bulletins, and more. It includes instant alerts for all requests, messages, and comments. You can find and view your friends' profiles with one click.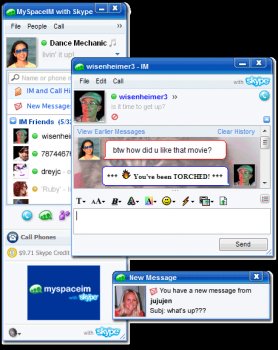 View Full-size
Latest Reviews
Sven123456789 reviewed v1.0.781.0 on May 30, 2014
Another program that is dead.
Minnaminor reviewed v1.0.754 on Dec 12, 2011
I used to love this application. Unfortunately I can't seem to install myspace im. I've tried on all sorts of sites,yeah it downloads,but installing,no hope for me. As soon as it starts installing,a message comes up to check my internet connection,which is fine,so I'm not sure what the problem is. I even downloaded and successfully installed the application in other languges,but even though I put in my correct login details,it wouldn't connect.

The help links for all these are non-existant.
theidealword reviewed v1.0.754 on Aug 25, 2011
It works, but I prefer to use msn, yahoo messenger and such product and so on. This product needs improvement.
Rabbit reviewed v1.0.754 on Feb 7, 2009
Why is myspace im chat 1/1 not coming out it comes out as a 0/0 and i have updated and reinstalled several times someone help me with this problem..

Ty
Rabbit!
Nikkie reviewed v1.0.697.0 Beta on Aug 3, 2007
I still hope for a plugin to gaim/pidgin or trillian?

and to the user below about myspace and turning in people...they do this more than those other companies.people are losing jobs, getting kicked out of schools and employers are actually looking for you on myspace, to make sure about you.
carstereos reviewed v1.0.697.0 Beta on Jun 20, 2007
MySpaceIM v1.0.697.0Beta was released back at the end of May. I think they have made leaps with each release. They do take feedback and the program works much better because of it.
arkansasben reviewed v1.0.697.0 Beta on Jun 20, 2007
MySpaceIM has greatly improved since it was first released about two years ago. A new version is released about once a month with lots of bug fixes and several new features.

Unlike how many people see it, I don't see this program as even trying to compete with the likes of Yahoo Messenger, MSN, etc. This is an IM program that allows MySpace members to interact with each other and that's it. It certainly accomplishes that goal, in my opinion.

It's easy to import your contact list, add new friends, it offers multiple chat views and has many options for it to be such an infant program.

The most important thing to me is that it alerts you when you have new messages, new friend request, new blog comments, etc. Makes it much easier for me.

Sure this program has a long way to go to even be halfway on par with other IM programs, but it has already come a long way and it no doubt will be successful.

For the person below who 'claims' that MySpaceIM monitors your usage, etc., you might want to actually look at the connection log that MySpaceIM generates. You couldn't be any further from the truth.

And for the person who doesn't trust MySpace because they 'supposedly' turned in a teenager for threats against the President. Name me any other reputable company that would ignore those types of things? Yahoo, Microsoft, Apple, etc certainly wouldn't. Read the terms of service.
pscowan reviewed v1.0.594.0 Beta on Feb 26, 2007
It works, but id much rather use msn messenger and such products, this product need a lot more work.
Nikkie reviewed v1.0.404.0 Beta on Oct 16, 2006
A warning...

Be careful with myspace and what you do on it.A 14 year old girl made an image with threats to president bush and myspace sent over the info to the secret service.They went into this girls classroom without talking to the parents and took her out for questioning.Though,i agree that threats being made should always be dealt with...myspace will hand you over in a second.Don't trust this site or its programs.Take a good look at who is running it and what those who are like him stand for.

I do like the site cause it catches a crapload of pedophiles but other than that i wouldn't trust myspace.
smanofsteel76 reviewed v1.0.349.0 Beta on Jul 23, 2006
This program is crap!!! It automatically updates every now and then, but still has no useful features. Only a few people on my list even bothered to download it. Also, the latest version seems to resize itself on its own and that was the final straw. I don't recommend even bothering with it until it is out of beta, but only if they add some decent features to it. I would rather chat on google, msn, or even aim, more so than this waste of code.