Publisher's Description
NSIS (Nullsoft Scriptable Install System) is a professional open source system to create Windows installers. It is designed to be as small and flexible as possible and is therefore very suitable for internet distribution.
Being a user's first experience with your product, a stable and reliable installer is an important component of succesful software. With NSIS you can create such installers that are capable of doing everything that is needed to setup your software.
NSIS is script-based and allows you to create the logic to handle even the most complex installation tasks. Many plug-ins and scripts are already available: you can create web installers, communicate with Windows and other software components, install or update shared components and more.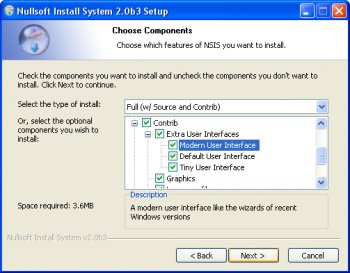 View Full-size
Latest Reviews
mkeeley reviewed v2.40 on Oct 13, 2008
I used to use and support NSIS all the time as it used to be a simple elegant yet powerful solution however as time has gone by it has become a clunky mess. Now use InnoSetup and can't see a time I'd go back unless NSIS was re-written from scratch.
jcollake reviewed v2.36 on Apr 24, 2008
Fyi on previous comment: BCJ & BCJ2 is included with LZMA, which I assume most people will be choosing with NSIS. The most critical thing is to enable BLOCK support so the whole bunch of files is essentially TAR'd together first. This improves compression substantially since the LZ 'dictionary'/window spans across all the files.
guti reviewed v2.36 on Mar 31, 2008
Althought it lacks a native Win64 port, and still has no BCJ filter for compressing EXE, it is the best installer tool.
PostDeals reviewed v2.26 on Apr 30, 2007
Awesome product, stable and FREE. Keep up the great work Open Source.
DaveGB reviewed v2.25 on Apr 2, 2007
We used to use Installshield Pro for many years, and it was horrendous. We had a list of install defects as long as our arms, developers always had issues creating installs, and if you wanted to do anything outside the norm, you were asking for trouble.

We switched to NSIS, 2.5 years ago, we now have no serious install defects, and everything runs smoothly, if we need to do anything out of the norm, it's a doddle using plugins.

Moving to NSIS was the best decision we ever made.
SWortham reviewed v2.24 on Feb 22, 2007
So you know where I'm coming from, I was using InstallShield for about 6 months. I wrote about 20 different installers with it and eventually got fed up with its awful support for what I considered simple custom tasks. When I eventually figured out how to do some of what I wanted, I still faced problems with InstallShield's flaky behavior.

So I tried a few other installers and eventually came to NSIS. I used the HM NIS Edit tool to build my first NSIS installer. The wizard took me through the basic steps of creating my first installer, and it wrote the code I needed to get started. The code was a little weird at first but I'm a programmer so I got the hang of it eventually. I was able to do EVERYTHING I wanted with NSIS. I'm using it on a fairly large scale and I've had absolutely no complaints with flaky behavior from thousands of users now. On top of that, the final executable NSIS produces is much smaller than an equivalent InstallShield exe. And an NSIS installer performs the installation MUCH faster than InstallShield as well.

So for me it was a no brainer. Once I got over the initial learning curve of NSIS I never looked back. I highly recommend it for any programmer who wants to build good Windows Installer packages for their software.
some guy reviewed v2.24 on Feb 20, 2007
I will agree with you Dudeboyz, it does need a wizard for the newbs, like my favorit INNO
http://fileforum.betanew...Inno_Setup/1018011974/1

Though I do think you have more advanced features on NSIS then the others but INNO and install wizard pro are very easy for novice.
I would give this a 5 if they did have a install wizard option for newbs aswell. I hope the programers of this software hear are cries....
rstat1 reviewed v2.24 on Feb 19, 2007
This is not a review but a reply to the previous reviewer: There are plenty of tools that do that very same thing. My favorite is Venis IX.
DudeBoyz reviewed v2.23 on Jan 16, 2007
Setup Stream, mentioned below, is much easier for simple install stuff. I agree that this product needs a much less complicated alternative way of packing an app for installation. Just a few screens with text entry boxes and some wizard-like things to make it as easy as a few simple steps.

If you need more complicated stuff and don't mind coding, that is fine, but it would be nice to have an alternative interface for n00bs. :)
kmleow reviewed v2.22 on Dec 5, 2006
Needs a user-friendly frontend