File Details

File Size
33.4 MB
License
Freeware
Operating System
Windows 2000/9x/Server 2003/XP
Date Added
May 4, 2015
Total Downloads
45,974
Publisher
Nero AG
Homepage
Nero DiscSpeed
Publisher's Description
Nero DiscSpeed is an excellent easy-to-use benchmarking tool for testing the operational capabilities of a recorder. As multi-functional tool, Nero DiscSpeed also works for testing the speed of your CD/DVD disc drive as well as testing and benchmarking blanks and burned discs. It can be configured to run according to your desired results. Results can be viewed either as a graph or as a test log.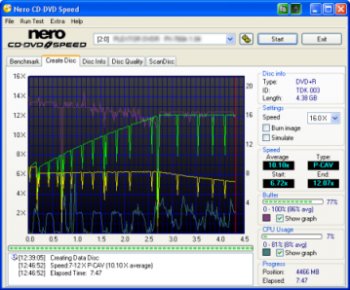 View Full-size
Latest Reviews
freeallsoftwares reviewed v5.4.24.0 on Nov 24, 2010
The Nero Disc Speed 5.4.24.100 is a typical CD-ROM/DVD utility benchmark that can even test the most important and available features of the user's CD-ROM/DVD drive. The Nero Disc Speed 5.4.24.100 tests include the transfer rate, CPU usage, DAE quality, Spinup/Spin down time, burst rate, seek times, etc. The Nero Disc Speed 5.4.24.100 has also an additional feature that has a functionality to evenly check the CD quality for media based applications. There are certain new features added in the new Nero Disc Speed 5.4.24.100 release with a full change log available. These have added and additional tool tips and facility to extend the available feature. There are many minor improvements made in the existing feature and version and the bugs are usually fixed instantly. The transfer rate, burst rate and other such features are required in order to test the Nero Disc Speed 5.4.24.100 version of software. On these tests, the software can be judged and hence used for betterment.
LuceferAB reviewed v5.4.24.0 on Jul 27, 2010
Try this: http://www.optidrivecontrol.com/
kingokok reviewed v5.4.24.0 on Jul 27, 2010
Save Money is Make Money! you like?
halc reviewed v4.11.2.0 on Apr 28, 2008
Updating my earlier review: 5 stars. This is the best cd/dvd/bd read error reporting software out there in terms of features, support for various drives and tweakability. Other alternatives include kProbe, Plextools Pro and PxScan, but they are manufacturer specific.

NB! You must learn how to interpret the results as they will not directly tell you the quality of the disc/burn. The software only reports what the drive sees (i.e. read errors).
halc reviewed v4.7.7.3 on Aug 10, 2007
The best from the best. It still has some minor niggles here and there, but this is an indispensable tool for those who know how to use it properly.
Canuckistani reviewed v4.60 on Sep 1, 2006
I see there is a little confusion about what the test mean so here is a quick look at them and a couple of tips.

The benchmark test is most useful for comparing the performance between different burners which is something most folks will rarely or never do. It is still useful as a general test to check the condition of your burner. If it goes through the benchmark without stalling or throwing up an error message you can be reasonably confident your burner is still in good mechanical order. Use a clean unscratched commercially pressed data disc for this test.

The disc quality test examines the quality of a burnt disc and a good rule of thumb is a score of 80 or higher is acceptable and a score of 95 or higher is an archival quality burn.

If the score of the disc quality test is below 80 or the test exhibited any odd behaviour open the scandisc tab and run the read test. Any files which failed to burn or are damaged will be listed highlighted in red or yellow at the end of the test with good files highlighted in green.

DAE test tests the ability of your burner to "rip" audio files and it is highly recommend that you read the help file before proceeding.

The over burning test is self explanatory.

This little tutorial is far from complete or authoritive but it should be enough for someone to get started quickly with this program.

More information and a mountain of tips and tricks can be found at club.cdfreaks.com and cdrlabs.com
QQ reviewed v4.60 on Aug 31, 2006
Yes yleclerc, that DOES say SO MUCH about the program!

God, people like you make me hate internet.
horsecharles reviewed v4.51.1 on Apr 12, 2006
I don't know much(but i know i love you-- err: stay on topic, focus split personalities, focus!)-- so i will also give it a rating lower than it's current consensus.......NOT!!!
wheel4hummer reviewed v4.50 on Mar 18, 2006
It's cool, but I don't know how I would actually need this program, or how to use the data it gives you.
mjm01010101 reviewed v4.50 on Mar 17, 2006
Nice.