File Details

File Size
5.4 MB
License
Shareware, $25.00
Operating System
Windows 2000/Server 2003/Vista/XP
Date Added
January 14, 2014
Total Downloads
54,539
Publisher
Exciting Software
Homepage
Net Transport
Publisher's Description
Net Transport is a fast and powerful download tool. You may use it to download files from Internet servers. It now supports HTTP, HTTPS, FTP, MMS (Microsoft Media Services), and RTSP (Real-Time Streaming Protocol) - five protocols used to transfer data. It can use multiple threads to download files. If a site allows multithreaded downloads, you can expect much faster speeds. This is especially effective for MMS streams because they use a fixed transmission speed and loading several streams of the same file fully uses your Internet bandwidth.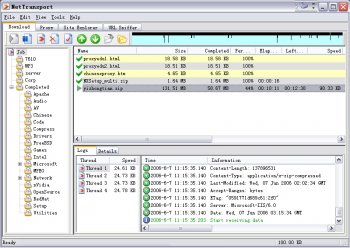 View Full-size
Latest Reviews
anonymouscowturd reviewed v2.94a.560 on Jul 6, 2010
Brilliant. Succeeds where all others fail. E.g. saving BBC iPlayer shows.
therube reviewed v2.88.488 on Oct 5, 2009
Net Transport 2.88 (Oct 6, 2009):
* Smaller SSH code.
* Added support to get LATM-based MPEG-4 Audio file via Darwin/QuickTime Streaming Server.
* Modified CONNECT method to promote successful chance to record streaming via RTMP.
* Fixed a crash bug while BT task was uploading.
* Improved the upload transfer rate for BT.
* Most socket connections were changed from non-blocking mode to blocking mode to improve transfer performance.

http://www.xi-soft.com/download.htm
I preferr Url Snooper. It's free!
cousinkix1953 reviewed v2.70.428 on Oct 23, 2008
I used to have the ancient version. 1.87.xxx on my machine. Its gone only becauseit does not work with FireFox! Of course the idiot who wrote this piece didn't bother to mention if this newer version does or not. Why download this software if I only get useless information????
shroom reviewed v2.55.392 on Feb 12, 2008
Best streams' grabber out there.
twanj reviewed v2.54.390 on Jan 15, 2008
Most other Download Managers don't handle streams as well. Great app!
brusco reviewed v2.50.380 on Nov 6, 2007
Nice. I especially like the .rtsp and .asx stream ripping.
hardgiant reviewed v2.47a on Sep 5, 2007
I'm still using version 1.94.281 which works great, I didn't like the newer version that much so I've stuck to the one that I have now.
fuhayer reviewed v2.47a on Sep 5, 2007
i was using orbit downloader which was better than flashget. but this program is really the best in speed and of course needs improvement.

for me the speed is everything.
so i have compared this to orbit and for me:
1st Net Transport
2nd Orbit downloader
3rd Flashget

it would be the best and one if this program uses the same features of orbit downloader
give a try and see the speed.
gehtnix reviewed v2.47 on Aug 23, 2007
One of the best DL-managers, unfortunately not free.
I still rate it 5, because it leeches from sources
where other DL-managers fail. Anyway, sometimes its
better to use getright or Flashget which now is free...