File Details

File Size
1.0 MB
License
Commercial Demo
Operating System
Windows 7/8/10/Vista/XP
Date Added
April 7, 2017
Total Downloads
174,177
Publisher
Symantec Corp.
Homepage
Norton Security
Other Versions
Publisher's Description
Norton Security is a mix of patented protection that neutralizes viruses, spam, network invaders, and unsafe downloads. Insight identifies which files and applications are safe and which are dangerous, using the combined feedback of more than 175 million Norton users. SONAR Behavioral Protection detects signs that a file is dangerous to proactively protect you from never-before-seen threats. Spam Blocking keeps your mailbox free of unwanted, dangerous, and fraudulent emails. Live 24/7 Threat Monitoring is backed by a network of Norton users who serve as your own personal Neighborhood Watch group.
Secures your passwords and personal information. Scam Insight reviews a website's reputation and lets you know if it's safe to enter your personal information. Anti-Phishing Technology blocks fraudulent "phishing" sites set up to steal your personal information. Identity Safe remembers, secures, and automatically enters your usernames and passwords for you, so they can't be lost or stolen. Parental Control feature helps you protect your kids from online dangers by giving you direct access to Norton Online Family. Safe Web tells you if a website is unsafe before you visit it and it's too late. Safe Web for Facebook scans your Facebook wall and news feed for URLs containing security threats such as phishing sites, malicious downloads, and links to unsafe external sites. Intelligent 2-way Firewall prevents strangers from accessing your home network by blocking incoming traffic determined to be unsafe.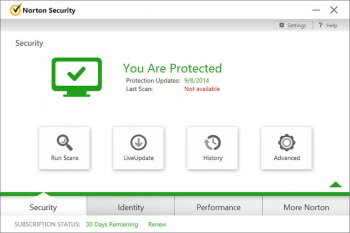 View Full-size
Latest Reviews
kstev99 reviewed v2017 v22.9.1.12 on Feb 25, 2018
Never buy anything Symantec. Consider yourself warned
CyberDoc999 reviewed v2015 22.5.0 on Jun 30, 2015
Norton never was good it is bloated
ShahinD reviewed v22.0.2.2367 on Apr 23, 2015
Norton was and is the best security Software
Enlightenment reviewed v2015 22.1.0.9 on Dec 19, 2014
Norton Internet Security software firewall feature is next to worthless compared to numerous other software packages, see where Norton ranks http://www.matousec.com/...hallenge-64/results.php
CyberDoc999 reviewed v2015 22.1.0.9 on Dec 17, 2014
I failed to find a virus that eset found
inkowyouknow reviewed v2014 21.3.0.12 on May 29, 2014
Despite it being a large program, the interferance in my business is pretty much 0%. Does what it says and the only software I use, tried the rest this is probably the best.
Music4Ever reviewed v2014 21.2.0.38 on Mar 29, 2014
I actually beta tested this as I have for some years & was glad to see the back of it, yet again the UI changes are unnecessary - Norton is once again losing the plot, compare the install size of Norton @ 280 meg against ESET SS @ 78 & ESET for example is by far the better product, you can do much better than Norton ~

(Mikebray is a spammer)
mikebray reviewed v2014 21.1.0.18 on Mar 12, 2014
awesome!
Terumo reviewed v2014 21.0.0 on Sep 5, 2013
HeilNizar you are a stupid boy.
Raimondas reviewed v2013 20.3.1.22 on Jun 13, 2013
Good protection, it runs very light. Do not slows down PC.
I do not have any problems with this NIS.
After trying
1. Kaspersky internet security 2013 (partialy loads webpages, slows down copying files from HDD to HDD)
2. McAfee internet security 2013 (blocks access to my archive disks)
3. AVG internet security 2013 (blocks IPTV even application is marked to pass)

the most of all I liked Norton internet security 2013. Good job!