File Details

File Size
4.0 MB
License
Open Source
Operating System
Windows (All)
Date Added
July 19, 2021
Total Downloads
140,093
Publisher
Don Ho
Homepage
Notepad++
Publisher's Description
Notepad++ is a free source editor with the syntax highlighting and syntax folding. It also gives the extra functionality to define a user's own language for the syntax folding and syntax highlighting. You can print your source code in color. It allows a user to edit the different document in the same time, and even to edit the same document synchronizely in 2 different views. It supports full drag and drop.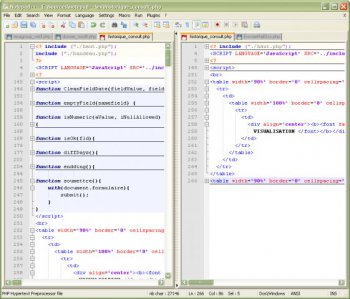 View Full-size
Latest Reviews
elopez172365 reviewed v8.1.1 on Jul 7, 2021
The new upgrade version of 8.1.1 now works with Windows 11
uninggo reviewed v7.8.6 on Apr 21, 2020
text editor i always used
cyberguy reviewed v7.5 on Aug 17, 2017
A decent editor when you consider what you are paying for it. It has most of the functions the average user will need for quick & dirty editing work.
For more features consider some of the shareware/commercial offerings.

You can't get much better for free.
Picasso reviewed v7.4.1 on May 18, 2017
Very good app!
cyberguy reviewed v7.2 on Nov 4, 2016
It is good to see a 64-bit version of this editor come out without having to build my own (messy). Max file size has always been a hard NP++ limitation. File size is really the only beef I have had with this editor. Now it is perfect for a free editor.
hkok reviewed v6.8.9 on Jan 15, 2016
The release 6.8.9 has been removed from the website because it failed the regression test.
maschu666 reviewed v6.7.4 "Je suis Charlie Edition" on Jan 12, 2015
Homepage Hacked.

But it's a very good Editor.
FatBastard reviewed v6.7.2 on Dec 29, 2014
This program is very good but it can't handle extremely large files.
Hall9000 reviewed v6.6.6 "Friday the 13th Edition" on Jun 13, 2014
Gave it it a 5 stars rating just because of the version number and the date it's out as in Friday the 13th. :-P Also did a screen capture!
HeilNizar reviewed v6.6.1 on May 7, 2014
2 stars less for not fixing "stylerTheme" path in "config" file to be portable even though I told the author about it ages ago.