File Details

File Size
4.3 MB
License
Open Source
Operating System
Windows (All)
Date Added
September 8, 2023
Total Downloads
146,076
Publisher
Don Ho
Homepage
Notepad++
Publisher's Description
Notepad++ is a free source editor with the syntax highlighting and syntax folding. It also gives the extra functionality to define a user's own language for the syntax folding and syntax highlighting. You can print your source code in color. It allows a user to edit the different document in the same time, and even to edit the same document synchronizely in 2 different views. It supports full drag and drop.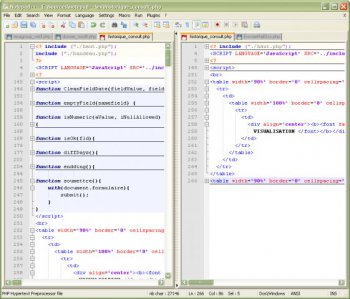 View Full-size
Latest Reviews
JamesSprag reviewed v8.2 on Jan 10, 2022
When I taught the programming language, javascript, my first editor was this software.
priyachaudhary reviewed v8.2 on Jan 5, 2022
Finally, it can work fine with the Windows 11
some guy reviewed v8.1.9.2 on Nov 30, 2021
this is a must have I can't live with out it so handy
elopez172365 reviewed v8.1.9 on Oct 22, 2021
Notepad++ 8.1.9 Work perfectly with Windows 11 now lifeforum send directly to the developer page to download the app. Thanks, fileforum to listen to us. Great job guy's
fred81 reviewed v8.1.8 on Oct 19, 2021
If you download the installer from the developers website the previous and latest version of NotePad++ works completely fine with Windows 11.
elopez172365 reviewed v8.1.8 on Oct 19, 2021
Notepad++ 8.1.8 this version works with Windows 11 only if you download from the developer page not from fileforum I have to said Thanks to "red81"
helo reviewed v8.1.7 on Oct 16, 2021
Maybe the next update will work.
elopez172365 reviewed v8.1.7 on Oct 15, 2021
Back to the drawing board, this one won't work with Windows 11
elopez172365 reviewed v8.1.1 on Jul 7, 2021
The new upgrade version of 8.1.1 now works with Windows 11
uninggo reviewed v7.8.6 on Apr 21, 2020
text editor i always used