File Details

File Size
6.6 MB
License
Freeware
Operating System
Windows 2000/9x/Server 2003/XP
Date Added
June 29, 2005
Total Downloads
9,422
Publisher
Daniel Glazman
Homepage
Nvu
Other Versions
Publisher's Description
Nvu is a complete Web Authoring System for Linux Desktop users as well as Microsoft Windows users to rival programs like FrontPage and Dreamweaver. It makes managing a web site a snap. Now anyone can create web pages and manage a website with no technical expertise or knowledge of HTML.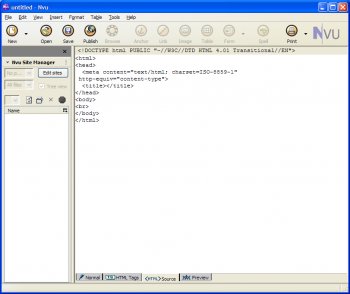 View Full-size
Latest Reviews
Pensador reviewed v1.0 on Oct 17, 2006
I don't consider this a free alternative to Dreamweaver. It doesn't even gets close to it.
I was really disappointed when Nvu re-formatted my code and made it unreadable.
I'll go back to PSPad until I can save some money to get Dreamweaver.
IMKey reviewed v1.0 on Sep 29, 2006
theres a good reason for this program to not support frames... there are good things about frames, but the bad points outweigh the good.

the xhtml spec deprecated frames a while ago.

i believe u need a special DTD declaration for valid frame based documents as well. its not worth it in many cases.
For a person new to web development, or for a person who wants a frames-based web site, NVU is frankly not good. But if a person has experience, does understand the power of CSS, and wants to build a low-bandwidth web site using all the benefits CSS can give, NVU can be quite useful. I am not convinced that it deserves 1.0 status -- there are bits of it that I think should be called "late beta", and its project management is simply inadequate -- but it is the only free web development software out there which does half of what it does, and since MicroVision ceased development of its WebExpress quite a few years ago, I have found nothing costing less than $100 which will do the things NVU will do.
JEdwardP reviewed v1.0 on Aug 8, 2005
I have a bias toward free, open-source projects, but I just can't rate this one highly at present. Not only does it still lack support for frames, but the mention of that on the website makes the author sound unconcerned or even mildly proud about it.

It's a statement the gist of which is, either edit your framed pages individually, or use CSS to mimmick frames.

That's not a good enough statement, and at the moment, this isn't a good enough application.
DiGiTaLFX reviewed v1.0 Beta (0.90) on Mar 22, 2005
I must admit its getting better - i now use as my website editor. Only three anoyances:
* css files are linked by absolute path. this NEEDS to be relative!!! (for me).
* the site manager should be able to work with a local directory and a publishing directory, syncing the two on command.
* would like the ability to say "don't use width/height attributes" on images. It seems to add this html, and I'm not fussed. I just want all images to show as their default size.

Otherwise its very capable for a simple website.
Oh yeah, also I have an RSS file for my blog. would be nice if this could open up xml for plain text editing, and not just render it as blank (potentially saving it as blank!).
WickedLester reviewed v1.0 Pre-Release (0.81) on Feb 10, 2005
This is a nice app for someone wanting to create a person homepage but it still needs a little more work to be used professionally. But for free is a great web-page applicaton.
kgruber reviewed v1.0 Pre-Release 3 (0.80) on Feb 3, 2005
I wouldn't go as far as saying this program is "complete" and agree with fellow reviewers that fundamental features such as frames are missing. It is a poor program for building websites from the ground up. However, I feel this program is excellent for editing/maintaining simple to moderately complex websites.
zridling reviewed v1.0 Pre-Release 3 (0.80) on Feb 3, 2005
I agree with Mark. When I coded just one new page, it would not let me rename the file, and the second file I had opened on a separate tab consistently disappeared. Looks nice, but against EvrSoft's 1st Page, it's not nearly as refined.
Mark Gillespie reviewed v1.0 Pre-Release 3 (0.80) on Feb 3, 2005
The main thing going for it, is it's free, as a HTML editor or site manager, it's still has LOTS of things missing.

I just spent an hour trying to find how to do frames in it, Guess what, it does not do frames. That's pretty fundemental support missing...
Braese reviewed v1.0 Pre-Release 2 (0.70) on Jan 8, 2005
@infinitejones

on windows? perhaps, delete your nvu profile and test it again. profile stored in c:\documents and settings\username\Apllication Data\Nvu
delete this folder and start nvu