File Details

File Size
1.7 MB
License
Freeware
Operating System
Windows 10
Date Added
November 2, 2021
Total Downloads
12,826
Publisher
O&O Software GmbH
Homepage
O&O ShutUp10
Publisher's Description
O&O ShutUp10 gives you full control over which comfort functions under Windows 10 you wish to use, and you decide when the passing on of your data goes too far. Using a very simple interface, you decide how Windows 10 should respect your privacy by deciding which unwanted functions should be deactivated.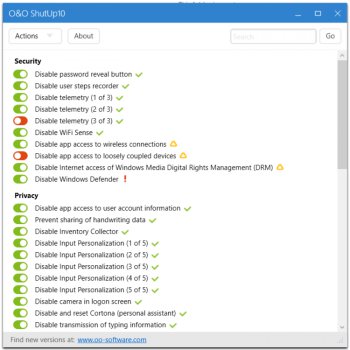 View Full-size
Latest Reviews
LakotaElf reviewed v1.8.1415 on May 7, 2021
If you want one of the best safety software's & free to all, it is among the best, does exactly what it says it will do and explains everything.
methuselah reviewed v1.4.1386.1 on Jan 2, 2017
Excellent program for reducing what you send to Microsoft. Used fairly aggressive settings and nothing broke.
I would suggest you run it again after every major Win 10 update, as MS tends to change settings by default.
some guy reviewed v1.4.1384.1 on Nov 4, 2016
fantastic almost makes me want to run windows 10
sweathog reviewed vv1.3.1355.1 on Feb 25, 2016
This is ok. But I prefer W10Privacy (http://www.winprivacy.de) plus Aegis (https://voat.co/v/technology/comments/853510) These two are regularly updated and will get rid of all the prying MS eyes.
CyberDoc999 reviewed v1.2.1353.1 on Dec 4, 2015
Best of the best! only use this if you want control over windows!
Music4Ever reviewed v1.1.1346.1 on Sep 21, 2015
Great add-on to Win 10, I've had no issues whatsoever using it - Checkout Ashampoo Anti-Spy which is similar & also free but covers a few bits this don't.
LakotaElf reviewed v1.0.1344.1 on Aug 28, 2015
Most excellent software, just what the doctor ordered, so shut up Microsoft and stop snooping on your customers who buy your software, it is very unprofessional even thought you tell us you do not do it, we do not believe you at all!
DudeBoyz reviewed v1.0.1344.1 on Aug 27, 2015
Already the 4th update since I started using it. They seem to be working hard to keep it on par with all the Windows 10 changes MS keeps injecting. Keep it up O&O!
Pkshadow reviewed v1.0.1344.1 on Aug 27, 2015
Great program saves tons of time manually doing this.
Only problem is that of course turning these things off puts warnings and other stuff in the Event Viewer.
Email them like I did say great program but can you cure the errors in Event Viewer that this causes.
It will be a better program for it and they are receptive to feedback.
BIG 5 *'s
stephenstud reviewed v1.0.1342.1 on Aug 21, 2015
You can get anything better, also from a great company!!