Publisher's Description
One-click BackUp for WinRAR (OCB) allows you to create an unlimited number of presets containing dozens of settings. Each preset can be quickly loaded by clicking on a corresponding shortcut. The safety of your data is explained by the fact that the program doesn't use amateurish algorithms of file compression - OCB completely relies on WinRAR. WinRAR is a powerful and widespread file archiver. RAR files can usually compress content 8 to 30 percent better than ZIP ones, providing better file safety and secrecy. Most home and corporate users have already switched from ZIP to RAR, and it was a handy backup shell utility that they all waited for. It is completely compatible with the latest WinRAR version. It's capable of creating ZIP and RAR archives, as well as self-extracting EXE archives - you won't need any software at all to extract your files.
This installer includes both the Freeware and Shareware versions. The Freeware version does not have Anti-hooligan protection, Error notification messages to administrator's e-mail, Backup archives to network folders, Upload archives to FTP servers with auto-cleanup of unneeded files, Send archives as e-mail attaches, Complete modem dialup support for FTP/SMTP sessions, Write archives to CD-R/RW, or Remote control via Internet or LAN.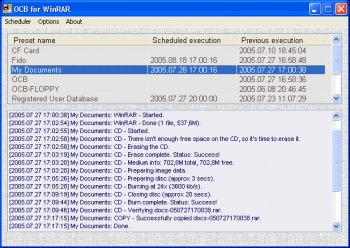 View Full-size
Latest Reviews
some guy reviewed v3.00 Beta 2 on Apr 4, 2011
shareware not freeware
TC17 reviewed v2.20 on Oct 5, 2008
Excellent program. It does everything I want for backing up. I like that I can set how many copies to keep and overwrite the older ones. I also like the fact it allows you to choose to add a RAR recovery record to each backup for more safety. Plus it isn't using some weird proprietary format. I had problems at first with Vista x64 until I realized I needed to run it as "Administrator".
FOldani reviewed v2.20 on Apr 7, 2008
And now with Blue-Ray and HD-DVD support. Excellent and 'must have' software in my PC. The best way for make backups
dejavu reviewed v2.17 Beta 3 on Dec 7, 2006
Nice program!
belthurgp reviewed v2.17 Beta 3 on Dec 7, 2006
Rar is the way to go. I have used Rar for over 9 years now and never once I had a problem. This program which uses RAR as a backed is very good. I just use a batch file to do the same job. It uses the windows scheduler to do the job.

Request to the author : You have a good thing going. Please don't bloat this thing by adding DVD writing stuff and other peripheral stuff. Backups are an interesting area where one can add a lot of stuff and before you know it the application will be bloatware.
Algy reviewed v2.14 Beta 3 on Jan 11, 2006
That is the most informative comment I've seen from a developer. Thanks for taking the trouble. I'll now try the software. The rating is for the comment:-)
Algy
zridling reviewed v2.14 Beta 3 on Jan 10, 2006
I've used OCB for WinRAR for over a year and with great success. How do I measure that? By OCB's reliability. I've backed up and filled over 200 DVDs and have not had one problem occur upon retrieval. The author is smart to use WinRAR because of its long-proven archive reliability. OCB is a simple, fast, and welcome solution to backing up files and folders without the normal hassles. And even if it backs up to ZIP format, I'll stick with RAR, thank you.
the_developer reviewed v2.14 Beta 2 on Jan 1, 2006
I see there is a kind of discussion here. So I'll try to answer to all issues.

To offmdan: One distributive has both shareware and freeware version. If you want to use freeware, the first time you start the program just click "I want to use anonymous freeware registration" and the program will never ask you to pay later...

To Joco: For technical reasons it's impossible to control WinRAR and 7ZIP using one and the same method, moreover, the features are different (7zip won't understand what is authenticity verification or solid archive). So the only way-out is to use different modules for different archivers, that's what I've been pondering on for some months already. But read about it below.

To uberfly: free version is available starting from 2.14 beta 2. Pervious versions were shareware only. About batches. I was using DOS for a long time so I know how cool it is to use batches, but nowadays people hardly want to learn dos. They want to click a button and go to sleep. That's what OCB allows to do. Moreover, a batch file is not a good thing to work with ftp, smtp, network and other stuff that were the reasons why OCB 2.xx appeared.

To bobad: about minimization. The help file has a chapter called "Using OCB main window" that explains how to hide the window to the tray easily. There is difference between standard "minimization" and "hide to tray" features, OCB supports both. Generally, the fact that some people don't want to read the manual at least not the hole manual but the chapters that explain the things that the user don't understand doesn't mean that the program is not handy enough. Once you've read the manual, you'll be surprised how much time you spent to do the things that could have been done with just one click. And it concerns not only OCB but any software at all. The same is about the scheduler. Good example: GIMP graph editor: its contorlls are absolutely different from the controls that we got used to in Windows applications, but this editor is considered the best choice in freeware world. So the idea is that a person should be sure that he learned all the features before saying that the program is good or bad... About "Why not a Freeware archiver like 7-Zip..." When I started the project nobody knew about such archivers. LHA and ARJ were completely dead, IMP was not promising, WinZIP required a kind of module to work with command line, I was too lazy to download it. At that moment people used only RAR here, in Russia, so there were no alternatives. Only in October 2005 a user told me about 7zip that seems promising nowadays and suggested to consider it.

To graphiteuk: The author makes some interesting claims in the overview too: "providing better file safety and secrecy" - sure enough, here in Russia our hackers hack zip files within 10 minutes-2 hours, but nobody is able to hack rar files except when using brute force that may take 100+ years to get a 8 char password with just 'a'..'z' letters... But add numbers and '@#$%' chars and you'll get an uncrackable rar. This is about secrecy. Recovery record is about safety. Set it to a high value and write a file to a floppy/cd. Then just scratch the media with an awl. Get the file using a program that copies files from bad sectors. Can you restore files? Sure you can, if you haven't killed the media at all. Now try the same with Zip - it won't give you files even if you put a piece of dust in the surface of the floppy disk... "Most home and corporate users have already switched from ZIP to RAR" - you don't believe. And I believe! While you're waiting, several well-known companies already use OCB to back up their data and feel quite happy with it. I know some admins in huge companies who use bare winrar with batch files though. OCB is preferable for those admins how store data on FTP servers, the most admins who use OCB bought it for this purpose. About home users - take a look at any p2p network, use e-mule. Look for "One-click backup crack" ;-) What files do you see? 7Z? I see mostly rar files because it is the size that matters when dealing with transferring files via network. "it was a handy backup shell utility that they all waited for" - unless you want to use winrar via batch :) Well, internal WinRAR features are NOT any handy for backup work. WinRAR shell is good for creating archives for the nonce, but when it comes to creating backups, it's pathetic. And it was even more pathetic when I started OCB project.

And now to all: I know it's easy to say that this or that program sucks. But any user should understand that there are no universal programs. The program can be either simple and easy-to-use with a limited set of features or a highly configurable "giant" with hundreds of checkboxes and unknown fields that can do anything in the hands of an advanced user. In the first case there are always people who will say "the program sucks because it doesn't have enough feautures", it the second case people will say "the program sucks because there are so many controls that it's impossible to understand anything without spending a month on reading the manual". I hope you understand what I mean. There's a perfect example of this: my other project "Sophisticated Rename". Well, when you start the program, especailly VAR EDITOR, you won't understand anything and probably uninstall it at once, but there are a lot of users who made themselves read the manual and they told me hundred times that having spent 10-20 minutes they made the program do the things that they couldn't do with any other software. That's the thing: powerful programs that can do anything are not easy to master, simple programs will never give you flexibility. It's up to you to decide what kind of software you need. I try to keep OCB as simple as possible, at the same time I try to add everything that the users ask for. You can install OCB 1.5 http://acritum.com/dist/ocb15.exe that was relased a year ago just for comparison and you'll understand that I wasn't just playing GTA-III the whole year ;-) I hear some of you are screaming "What a hell, OCB 1.5 is much better that 2.14!!!", well, maybe you're right :)

About 7ZIP: If I'm not feeling too lazy the next month, I'll start a brand new backup software project which will support all possible archivers that provide command line access, it will support custom mudules, for instance, if you want to send an archive to a server situated on Mars using Hyperboral Byte Transflecator (it's your task to write drivers for this device!), I'm going to add Nero Burning ROM support to write DVD disks. I have a lot of ideas but it's really difficult to make it all work together. I've been thinking about it for several months and I've just outlined how it all should look like, but there are a lot of contradictions. ATOH I want the software to be reliable so there are a lot of things to think about yet... Anyway, the work will take a lot of time and efforts, so it won't be freware at least during the first years of its existance.
graphiteuk reviewed v2.14 Beta 2 on Dec 29, 2005
The tool looks as though it has some promise. I agree with bobad, though, that the use of an alternative archiver should at least be an option - how about the ability to work with different archivers via a setup file?

The author makes some interesting claims in the overview too:

"providing better file safety and secrecy"

"Most home and corporate users have already switched from ZIP to RAR"

"it was a handy backup shell utility that they all waited for"

I would be interested in hearing the proof of these.
bobad reviewed v2.14 Beta 2 on Dec 29, 2005
Interesting software. I like the relitavely small size, good flexibility, and busy but usable GUI. Setting up new profiles can be pretty quick for simple backups. The scheduler is not intuitive, and takes a bit of study to figure out. The "minimize" button does not work on my install. It's a little annoying to have to press the "close" button then the "minimize to tray" button when I want to minimize it.

The Freeware version is pretty crippled, but still somewhat useful. It's interesting that a Freeware program uses WinRAR, a commercial archiver. Why not a Freeware archiver like 7-Zip or IZArc? (I do believe these archivers use command line functions similar to WinRAR).

All in all, a very imaginitve and refreshing program, and not bad for a beta release. I am torn between giving it 3 points or 4, but 3 it is. I will be watching this one.