File Details

File Size
4.6 MB
License
Open Source
Operating System
Mac, Unix, Windows 2000/9x/Server 2003/XP
Date Added
December 21, 2007
Total Downloads
4,102
Publisher
John Graham-Cumming
Homepage
POPFile
Publisher's Description
POPFile is an open-source automatic email classification tool using a Naive Bayes classifier, a POP3 proxy, and a Web interface. It runs on most platforms and with most email clients.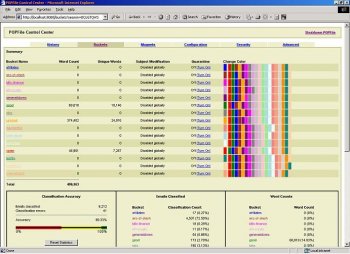 View Full-size
Latest Reviews
danielshimizu reviewed v0.22.2 on Nov 8, 2005
Have a new version on site
gogo66 reviewed v0.22.2 on Dec 24, 2004
Great program ! it needs a little training and it's ready to go ! and it's also free...
can't wait for future updates... *****
mrn121 reviewed v0.21.0 on Mar 10, 2004
The best keeps getting better. I haven't seen a better product for filtering junk mail anywhere (free or otherwise).
Mark Gillespie reviewed v0.20.1 Beta on Nov 6, 2003
Excellent. Beats all the other spam solutions hands down. It's also free and open source. The new 0.20 versions are considerably faster I have noticed.
iamalsohere reviewed v0.20.1 Beta on Nov 5, 2003
Very good. Beats all of the other spam programs hands down, needs very little training, and is easy to rectify mistakenly filtered email. A definate favourite.
XxCoCxX reviewed v0.19.1 Beta on Jul 18, 2003
It's impossible not to love this program. It takes a month or two for it to learn everythingbut once it does you're set and won't see a bit of spam that you don't want to.
Vantorax reviewed v0.19.0 Beta on Jun 19, 2003
This is the perfect "set it and forget it" spam solution I've been looking for for a long long time!! Took me just a few days to train it and there it went by itself elliminating my spam problems and achieving over 98$ accuracy. I'll never uninstall it.
mrp- reviewed v0.19.0 Beta on Jun 12, 2003
I love this program. I'm currently using 0.18.1, I will upgrade to 0.19.0 once it's out of BETA... One question for anyone who might know, does this new version fix the bug with HTML color codes? Where sometimes popfile stores a number like #33333 as #33 3333 in the corpus, therefore screwing up the word count and making the classifications go crazy (spam being classified as real, real as spam, etc) Thanks
Mark Gillespie reviewed v0.18.1 Beta on Mar 4, 2003
Excellent program. It's self learning. You teach it what goes where, and it eventually takes over classification for you. Typically it needs a week or two to get accurate, but then, it's awesome.

Cured all my spam problems. It can be run as a NT service.

highly recomended.
_Shorty reviewed v0.18.0 on Feb 22, 2003
this is the best tool of its kind, definitely worth a try. One word of advice, after your first batch of mail, only train it when it makes a mistake. It will be much more accurate in the long run. It gets very accurate very quickly, depending on your email volume. Only took a day of training here before it was more or less left alone. And it can be used for more than just spam. I have it sorting out my beta and half-life email too. You can train it for pretty much any style of emails. Awesome.