File Details

File Size
70.4 MB
License
Shareware, $75.00
Operating System
Windows 7/8/10/11
Date Added
January 13, 2023
Total Downloads
14,316
Publisher
WnSoft, Inc.
Homepage
PTE AV Studio
Publisher's Description
PTE AV Studio allows create impressive photo and video slideshows for PC, HD and 4K video. Add images and video clips together with all effects: Pan/Zoom/Rotate, 3D transformations, masks, shadows. Beautiful slide styles and transition effects.
PTE AV Studio can use source media files without conversion. No need to wait to see result of your work. Instant preview of a slideshow in real time. Highest quality of picture and smooth playback of animation.
PTE AV Studio also is an excellent choice for advanced users and for wedding photographers. PicturesToExe Deluxe provides the user with all the necessary tools to create a great-looking photo/video slideshow or documentary.
PTE AV Studio creates an executable file with your slideshow in a few seconds that does not require any additional program to run the slideshow (even PTE AV Studio itself is not necessary). The slideshow can be accompanied by sound or text comments to each slide or by any music file from your collection. The timeline with a waveform facilitates the synchronization of the pictures to the background music. You can easily record voice comments to slides right in PTE AV Studio.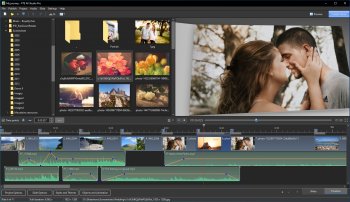 View Full-size
Latest Reviews
DG reviewed v5.6 on Jan 29, 2009
Unfortunately, comments from kindbud1 and twosheds are quite typical for people with stereotyped thinking.
PicturesToExe is really great and useful program. I use it for almost 10 years, and I thank its author - Russian programmer Igor Kokarev - again and again. Just try it!
CapZap reviewed v5.04 on Oct 12, 2007
This program has been around for a long time. I looked to see when I originally bought it but couldn't find the receipt. I believe it was about 1999 or so. In any event, it is a very easy to use and well-done program. An "old reliable".

Kindbud, that was unkind. Every slideshow making program I know has an option to put the show in an exe format. Very common.
Malder reviewed v5.01 on Jun 27, 2007
Did you try this program before write this?

You can create and burn DVD-Video disc in PicturesToExe Deluxe 5.0 No need to create EXE files.

Try to find another program which will allow to use Pan/Zoom effects with sharp picture and smooth playback in real time.
kindbud1 reviewed v5.01 on Jun 24, 2007
yes, this is a HORRIBLE idea!

the author must be either:
a. very stupid
b. some kind of malware writer/distributor seeking to lull people into a false sense of security regarding .exe files
twosheds reviewed v5.01 on Jun 24, 2007
A disastrous idea - getting people used to running EXE files to see pictures is just asking for trouble.
Aquarelle reviewed v5.00 Beta 9A on Apr 25, 2007
I am a semi-professional photographer. I used to make slideshows (and TV) for living. I'm now retired, and make slideshows purely for fun.

I have tried MANY softwares such as this one. I tried the demo version,then decided to buy the full version (including full updates!). I found out that P2E (Picture to EXE) is one of the easiest to use. Synchronize music with slides, picture zoom in-out, package it in a "ready-to-use" EXE file. Well, it has many features offered by much more expensive similar products.
I give it a 10.... err, I mean a 5! ;-)
Mark Gillespie reviewed v5.00 Beta on Jul 25, 2006
Virus writers... One your marks, gets set, GO!!
Das mod reviewed v4.47 on Mar 14, 2006
very good
Blackhole8746 reviewed v4.43 on Sep 1, 2005
Impressive!
godsguybri reviewed v4.10 Beta on Aug 3, 2003
Works well! I think after a while it will become freeware. I don't really care one way or the otheri can deal w/ the text on the bottom