File Details

File Size
60.6 MB
License
Open Source
Operating System
Windows 7/8/10/Vista
Date Added
July 31, 2023
Total Downloads
32,966
Publisher
Paint.NET Team
Homepage
Paint.NET
Other Versions
Publisher's Description
Paint.NET is image and photo manipulation software designed to be used on computers that run Windows. It supports layers, unlimited undo, special effects, and a wide variety of useful and powerful tools. It started development as an undergraduate college senior design project mentored by Microsoft, and is currently being maintained by some of the alumni that originally worked on it. Originally intended as a free replacement for the MS Paint software that comes with Windows, it has grown into a powerful yet simple tool for photo and image editing. The programming language used to create Paint.NET is C#, with a small amount of C++ for installation and shell-integration related functionality.
Paint.NET is freeware, but the team is accepting donations here.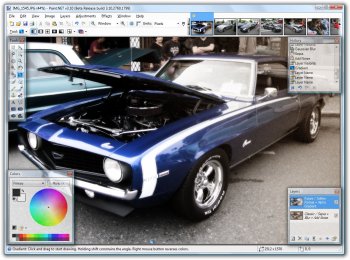 View Full-size
Latest Reviews
PAEzz reviewed v5.0 Alpha Build 8368 on Nov 29, 2022
After all these years the interface is still slow to work with.

The day I can alter the properties of the layer in the layer interface without having to go to a separate dialog is the day Ill start using it near exclusively. Until then it just feels like a complete waste of code.
mactwistie reviewed v4.4.5442 Beta on Nov 26, 2014
I have been using Paint.Net for years now. I have rolled it out to over 1000 users in our company with some extra addons, and it's been great. No hassles, no crashes and with a great modding community, there really is not much it cannot do. Keep up the great work !

4.5 / 5 stars from me, as it's true the menu couild use a little work. Still love it though.
uberfly reviewed v4.0.5278 Beta on Jun 16, 2014
5 stars. If you're still using XP give yourself 1 star, not this great app.
Karol Mily reviewed v4.0.5268 Beta on Jun 6, 2014
Editor is quite capable. Has some advanced functions, but it's useful only if you need them - rating 7/10.

Stil needs more attention for basic functionality user confort - rating 3/10.

Dependency on .NET 4.5.2 limits editor for Windows 7+ only.
budzis reviewed v4.0.5268 Beta on Jun 6, 2014
Not work on XP
mikebray reviewed v4.0 Beta Build 5168 on Mar 12, 2014
pretty good
aegamemnon reviewed v4.0 Beta Build 5168 on Feb 24, 2014
Version 4.0 5168 is a password protected .zip archive. Any chance you could include the password so that it can actually be opened? It's kind of useless as is.
egg83 reviewed v4.0 Alpha Build 5105 on Dec 23, 2013
Have used Paint.Net for a while, and have had no problems with it. Very good software.
UPieper reviewed v4.0 Alpha Build 5105 on Dec 23, 2013
Works flawlessly and is very intuitive IMHO. Perfect for my requirements. And it free!
krakokainer reviewed v3.56.3955.29199 Beta 1 on Nov 2, 2010
Muchacho this programs be a rockin it. paints yo stuff legit and all like you wants to, no problems over here my yos