File Details

File Size
61.2 MB
License
Freeware
Operating System
Windows 7/8/10/Vista/XP
Date Added
December 3, 2019
Total Downloads
23,278
Publisher
Paltalk
Homepage
Paltalk
Publisher's Description
Paltalk lets you start a free video chat, voice, or text group chat with anyone on any devices. Get up close and (practically) in person with celebrities like Maxim model Diana Falzone plus many industry experts. Bring the movie theater into a video chat room with virtual Screening Rooms (popcorn not included). Join millions of other members and watch comedy shorts from Heavy.com, wrestling from WWE and hundreds of other video clips.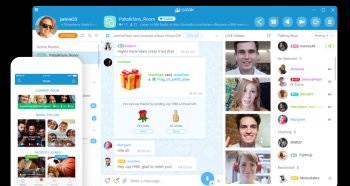 View Full-size
Latest Reviews
wrcx reviewed v9.4 on Jan 11, 2009
http://www.ozsohbet.net
sohbet
asaenz reviewed v8.2 on Mar 8, 2007
Version 9.0 crashes a lot. Almost everyday there is system maintenance and everyone is forced to logout. Seems like they'd maintain a duplicate system and automatically log people in and out without their knowing it. Computers can do almost anything - it's up to the programmers to fulfill their capabilities.
Nikkie reviewed v8.2 on Jul 23, 2006
Too many advertisements and it doesn't offer anything worthwhile.There are free programs that offer way more.

Thank you but no thanks...
tannman1 reviewed v7.0 on Mar 2, 2005
I have used Pal since 2002 and the only thing that comes closed to it is GCN. Pal provides the user a communication app that I dont see what else they can add to it. Granted there are issues with some users who love to rip off paid names...having said that you gotta let in before they can clean ya out. Pal also provides block features and 24/7 support as well. Yes I am a support person but that is a non paid position and I used pal a long time before I became "Red". I speak for myself and not for Paltalk. Try it, the basic level is free, the Pal Plus is 34.00 a year.
network22 reviewed v5.0 Build 553 on Oct 14, 2004
purifies thing paltalk. particularly because this version is already 2 months with paltalk .very amusingly.
ad the user Nicholas440 = nikolas (co-admin)??
Nicholas440 reviewed v5.0 Build 553 on Oct 13, 2004
I've been using Paltalk for about 5 years now and in my opinion it is the best one going at the present time. You can go on MSN or Yahoo if you like, they have chat rooms too but I think Paltalk is far better. Paltalk is growing every day and it is also rated the #1 chat with video that is free on the net.
Optionally you can pay $34 per year for Paltalk PLus which gives you full streaming video in 6 video windows simultaneously. I would like to see Paltalk eliminate all the freeloaders, and make it a subscription only program because I think it would free a lot of wasted bandwidth and improve the performance. I give it a 5 .
pixturesk reviewed v5.0 Build 553 on Oct 13, 2004
I have been a Paltalk user for about 3 years. The audio quality is excellent. I only get a pop-up when I sign on or quit Paltalk, a small price to pay to participate in many interesting topic rooms in either audio/video for free. I have not been chatting one on one recently, but I have on other occasions. Seems to work well. Try a pop-up blocker if you are getting a lot of pop-ups. Make sure that the settings are right for your computer. Try it for yourself without listening to the "nay-sayers".
Error404 reviewed v5.0 Build 488 on Sep 7, 2003
I Use this horrible piece of code, because for the simple fact. to many folks I know are on it. Wish the dev's would get a clue with coding with quality, instead of thinking of ways to spend that green paper.
donpacman reviewed v5.0.70 Beta Build 460 on Aug 9, 2002
and they will call it "CrapWare" or "Paltalk"
tvaccari reviewed v5.70 Beta Build 456 on Aug 1, 2002
MSN Messenger is so much better then this POS!