File Details

File Size
55.3 MB
License
Subscription
Operating System
Windows 7/Server 2003/Vista/XP
Date Added
February 23, 2015
Total Downloads
126,673
Publisher
Panda Security
Homepage
Panda Antivirus Pro
Publisher's Description
Panda Antivirus Pro is the easiest-to-use and most intuitive protection for your computer. Just install it and forget about viruses, spyware, rootkits, hackers, online fraud and identity theft. Chat, share photos and videos, bank and buy online, read your favorite blogs or simply surf the Web, with complete peace of mind. And thanks to the new Collective Intelligence technology, the solution is now much faster than previous versions.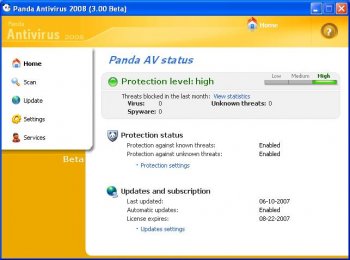 View Full-size
Latest Reviews
mariaswalker19 reviewed v2014 13.01.00 on Aug 15, 2013
This is gonna be great!
CyberDoc999 reviewed v2013 18.00.01 on Sep 5, 2012
it is Panda Antivirus Pro that consumes huge resources
ppscslv reviewed v2012 17.00.00 on Nov 7, 2011
That antivirus consumes huge resources...
ballyhairs reviewed v2010 9.01.00 on Oct 24, 2009
Avoid this one
Nod32 is the king
TC17 reviewed v2010 on Oct 16, 2009
I am changing my prevous 5 star to a 1 star review now. Just a warning to anyone who does buy the Panda software. They will spam you to death with their emails. I decided not to renew because I'm now using the free Microsoft Security Essentials, and I am getting nothing but spam from Panda to renew. Even clicking their link to remove the spam, does not stop it. Now I have to make a gmail rule to filter and delete any email that comes from them.
poundsmack reviewed v2010 on Jun 24, 2009
WOw, doesn't use nearly as much memory. Very nice. Big difference from before, but still not my personal favorite (avira)
thartist reviewed v2010 on Jun 24, 2009
hello? it's mid 2009
TC17 reviewed v8.00.00 on Oct 21, 2008
You can buy an OEM version of this from many places. I bought my 3 pc version of this from ebay for only $9.

I would agree, I would never even pay over $20 for ANY antivirus program.

Plus, none of the antivirus programs are going to catch everything. They all catch something the other one doesn't. People brag up Avira so much, yet I've seen trojans on computers with Avira running. I like the interface of Panda very much, its not cluttered and looks nice, along with daily updates. Its much better than it used to be... and the screenshot shown here looks totally different than what this 2009 version looks like.
I looked on the website and the trial lasts one month.

A 12 month subscription costs US $49.95. A bit pricey for one pc.
TC17 reviewed v3.00 on Aug 13, 2007
Actually anyone who has actually tried Panda within the past year knows its no longer bloated like it used to be. Its actually light on resources compared to many other scanners.