File Details

File Size
2.9 MB
License
Freeware
Operating System
Windows 7/8/10/Vista/XP
Date Added
September 29, 2020
Total Downloads
6,270
Publisher
PatchMyPC
Homepage
Patch My PC
Publisher's Description
Patch My PC is a portable and reliable utility designed to check your system against the current version of Adobe Reader, Adobe Acrobat, Flash, Firefox, Java, and Quicktime.
When started it will scan your computer for the latest version of this software if your system does't have the latest version it will show up as red, and when you click update it will download and install the latest available updates for the software found on your computer. With the aid of this application, you will be always up to date.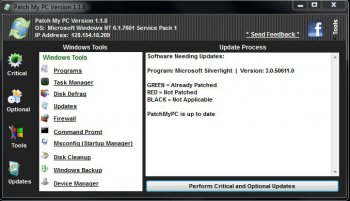 View Full-size
Latest Reviews
BogdanSHA reviewed v4.0.0.6 on Mar 7, 2018
Super little stand-alone "check for updates" program
some guy reviewed v3.1.0.1 on Aug 2, 2017
great stuff and great work keep it up ran flawless windows 7 64 bit
BogdanSHA reviewed v3.1.0.0 on Jul 28, 2017
Superb even in 2017 on Windows 10
Pkshadow reviewed v2.6.0.5 on Oct 9, 2014
Since no review since 2013 this should be updated so will go for it.

Program is stand alone so is perfect. Nothing else seems to be included.
Program seems to do what it says, programs updated fast and easy & quick.
Has a large list of programs, possibly could do with more.
This does not distract from what it does do & quickly with a small foot print.
Recommend this program to save time.

Now only if it could do drivers as well.
Uriel reviewed v2.3.4.1 on Jun 17, 2013
This software is awesome. It even updates itself with your permission. It is packed with lots of options and comes with a scheduler. This app will also check for Windows Updates for you. Oh and PMPC watches for way more apps than what it mentions in the ad.
RWW reviewed v2.0.3 on Sep 21, 2011
Only one of this type updater that really works! The silent install threw me for a moment. Now if they would add AVG Free, Klite codec packs, and a few others.
Uriel reviewed v2.0.0 on Sep 8, 2011
Wow. Only 312KB on my disk. The app is now smaller and better since my last review. The author of this app is onto something great and will catch on with the public in due time just like Ccleaner has.
CyberDoc999 reviewed v2.0.0 Beta 1 on Sep 6, 2011
yes but Ninite really works
this program is OK and stalled on me a few times
this program also deleted all my google chrome extensions
and made me waste 1 hour fixing google chrome
Psychlone reviewed v2.0.0 Beta 1 on Sep 2, 2011
@CyberDoc: While I agree that ninite has it's place, this utility is actually easier because you don't have to update your USB stick every other day... this program downloads and installs the most important things all by itself.

Now for the review:
This program does exactly what it says.
I fully appreciate the new ability to remove specific programs from being downloaded and installed (i.e. Firefox) - not all the programs that were being downloaded and installed automatically were needed.

This program is a GODSEND to the computer repair industry. Previous to this, I had to use Ninite or Ketarin to keep the main programs updated that I needed every day. This program literally saves me 15 minutes on EVERY computer I work on... that works out to 300 minutes per day on average that I don't have to spend physically clicking buttons to install programs that are needed on new builds - like Flash, Reader, Java, etc.
Uriel reviewed v1.1.7 on Aug 2, 2011
Only 476 KB on my disk is hardly bloated. I was surprised to see that my Firefox browser and iTunes were out of date. It even downloads and updates these apps for you. It's portable and best of all it's FREE!