File Details

License
Subscription
Operating System
iOS, Linux, Mac, Microsoft Hyper-V Server 2008, Windows (All)
Date Added
May 3, 2017
Total Downloads
25
Publisher
PerimeterX, Inc.
Homepage
PerimeterX Bot Defender
Publisher's Description
PerimeterX prevents automated attacks by detecting and protecting against malicious web behavior. By analyzing the behavior of humans, applications and networks, PerimeterX catches in real-time automated attacks with unparalleled accuracy. Our proprietary technology protects your business and web infrastructure by preventing known attacks and those that do not trigger security. With PerimeterX businesses deploy and gain visibility within minutes and easily integrate it into their existing infrastructure.
By focusing on the behavior of humans, applications and networks, PerimeterX Bot Defender detects automated attacks against your website with unparalleled accuracy. Through behavioral analysis and machine learning, it identifies automated threats invisible to signature-based detection and WAF tools.
Instead of using signatures of existing bad bots, PerimeterX Bot Defender builds dynamic profiles of normal user behavior. It combines that data with browser and session activity patterns to identify malicious bots and catch them no matter how many times they change their IP or approach.
PerimeterX Bot Defender is compatible with your existing infrastructure, including on-premise, cloud and CDN. What's more, you don't need to invest in hardware or deploy as an appliance or proxy service, or be placed inline of website traffic. You can deploy seamless protection within minutes.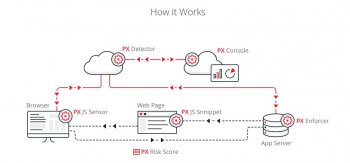 View Full-size
Latest Reviews
CyberDoc999 reviewed v1.0 on Jun 24, 2017
Just use Sandboxie and you are safe.... this is not as good as Sandboxie ... they do not tell you the cost .... it looks like it is a server type program... Hyper-V Server
CyberDoc999 reviewed v1.0 on Jun 24, 2017
Just use Sandboxie and you are safe.... this is not as good as Sandboxie ... they do not tell you the cost .... it looks like it is a server type program... Hyper-V Server