File Details

File Size
13.3 MB
License
Shareware, $32.00
Operating System
Windows 2000/9x/Server 2003/XP
Date Added
October 22, 2009
Total Downloads
2,851
Publisher
Pavel Kanzelsberger
Homepage
Pixel
Other Versions
Publisher's Description
Pixel is a RGB, CMYK and HDR image editing, photo retouching and manipulating program available for many operating systems.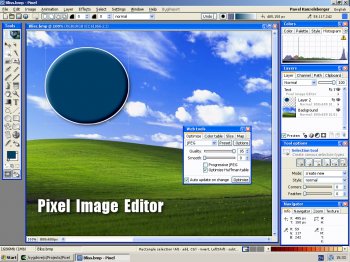 View Full-size
Latest Reviews
molumen reviewed v1.0 Beta 6 Build 557 on Oct 18, 2006
a little more stable tan the previous build, but still far from the 1.0 release IMO...
molumen reviewed v1.0 Beta 6 Build 553 on Sep 25, 2006
Pixel is still unstable and a little weird in its behaviour, but the main idea (to create a photoshop-like application on all major platforms) is IMHO a good one. Let's hope that it will become a reliable product in the near future.
I gave it a 4 because Pixel, even its early devel stages, is already much more usable that GIMP. It has at least CMYK support (GIMP didn't even manage to have CMYK support in all these years!!!) and Pixel has also a normal interface (not the weird unusable crap that GIMP has).
klakson reviewed v1.0 RC3 Build 445 on Apr 12, 2005
Watching development of this tool for few months. It still needs a lot of bugfixing but it has great potential and if all bugs are fixed in few next months this will become very powerful tool for winblows, linux and possibly others supported, personally I prefer OSX. Anyway, as far I know this is a too big project for one man show, just give it a chance...
zridling reviewed v1.0 RC3 Build 445 on Apr 12, 2005
Well I'm back and this latest beta is yet another disaster. Words can't describe how truly bad this software is. The interface is great, but the code underlying it is mush.
kanzels reviewed v1.0 RC2 Build 425 on Dec 1, 2004
Interface is not DOS/Windows 3.1 like, it's fully skinable. You may notice them on screenshots, for example here:

http://pixel32.box.sk/shot/pixel_live.png

It's default skin is simple because of interface speed.
zridling reviewed v1.0 RC2 Build 425 on Nov 30, 2004
I could not get the tools to work in this version, and worse, it would not uninstall properly. Also, while the sleek interface is skinnable and the tool windows have a nifty snap feature, the dialogs are oddly primitive, with an old Windows 3.1 appearance. The author notes that the software will cost $100 upon final 1.0 version release. If so, he has a lot of work ahead of him. I hope he makes it because this seems a promising program, but supporting so many different OSs will significantly slow upgrade intervals. (I rate this beta a 1 because I could not get it to work on two separate machines. I'll test and review again the next release.)
kanzels reviewed v1.0 RC1 on Nov 6, 2004
It wasn't dead. There just wasn't public activity. Program changed a lot and that 30% missing is not true for this release, it's just a non-updated description here at BetaNews.
Zulithe reviewed v1.0 RC1 on Nov 4, 2004
Hmm, what is this program that suddenly jumped alive after a near-death in 2002? Would anyone pay $32 for a program that, judging by its history, won't be updated for another year or two? The Photoshop-like interface is nice, especially since The GIMP interface is so unusable on Windows, but how does it stack up to free alternatives like The GIMP when it comes to features? The program claims it is missing about 30% of features, is it worth buying at this stage, or is it really just a rip-off?
jimf43 reviewed v0.99.8 Alpha on Apr 16, 2004
I thought the program looked great (for Linux) and like a fool went for a registered copy. that was three weeks ago. still haven't got it. Pavel doesn't respond... Dead or bankrupt I guess. Oh well, live and learn.
kanzels reviewed vv0.99.7 on Oct 14, 2002
Dear Sir, you should check http://pixel32.box.sk for more information, version 0.99.7 is more than 2 years old. New version comes for Windows, Linux, BeOS, QNX and FreeBSD (soon Solaris and MacOSX)... it's already available to registered users :)