File Details

File Size
1.3 MB
License
Shareware, $29.95
Operating System
Windows 2000/9x/Server 2003/XP
Date Added
June 14, 2012
Total Downloads
99,723
Publisher
EnTech Taiwan
Homepage
PowerStrip
Publisher's Description
PowerStrip provides advanced, multi-monitor, programmable hardware support to a wide range of graphics cards - from the venerable Matrox Millennium I to the latest ATI X1950 Crossfire and NVidia Quad-SLI 7900. It is in fact the only program of its type to support multiple graphics cards from multiple chipset vendors, simultaneously, under every Windows operating system from Windows 95 to the x64-bit edition of Vista. A simple menu that pops up from the system tray provides access to some 500 controls over your display hardware, including sophisticated color correction tools, period level adjustments over screen geometry, and driver independent clock controls.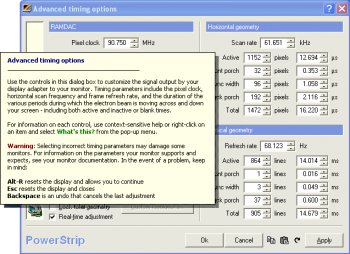 View Full-size
Latest Reviews
Ryusennin reviewed v3.89.672 on Jan 19, 2011
Used to be great on CRT to create your own custom resolutions, especially for vintage emus. Nowadays it's pretty much useless on LCD.
Ryusennin reviewed v3.82.632 on Aug 28, 2008
Clumsy interface but excellent tool to properly create your own custom resolutions (priceless feature for advanced retrogamers).
Young Boys Bern reviewed v3.80.625 on Jul 10, 2008
This tool is completely unneeded with the latest card and drivers.

Anyway, who would want to register this program if there's nowhere to find if your card is supported anyway.
darthbeads reviewed v3.65.560 Beta on May 21, 2006
@lswinney:
Then please stop trolling around BETAnews and ne'er return. What, honestly, is the point of your "review"?

PowerStrip is, in my experience, the most powerful graphics card tweaker. Great UI, regularly updated, and just plain works.

That said, I run NVidia cards, so I generally just use NVHardPage.
Adrian79 reviewed v3.64.551 Beta on Mar 29, 2006
since Vista and ATI do not support my old "ati radeon 9000pro 64mb" card with the new drivers....this will/should fix my prob of my screen being sOoo dark with no way to fix it :-)

yay!
fatray reviewed v3.64.541 Beta on Jan 27, 2006
With this I was able to get my Mitsubishi HTDV at a proper 1200x666 resolution. Now the desktop is perfectly shown on TV at 720p.
bangbang023 reviewed v3.63 on Dec 13, 2005
After leaving ATI for nvidia, I realized I missed the Catalysts' ability to automatically change color profile for the desktop and 3d gaming. Powerstrip solved this issue for me with it's application profile options. For this alone, I love it.
LordNikon reviewed v3.62 on Oct 4, 2005
My ATI Radeon 9700 burnt out. so I was forced to My Diamond Stealth S220 Video card. This Application has now help me properly calibrate my monitor. Woot!!!
Dwarden reviewed v3.55.484 on Dec 7, 2004
One of rare software products which works w/o dependence on drivers and supports almost any card on market ... great pice
fedorafreak reviewed v3.54.476 on Oct 30, 2004
I can even OC my intergrated grafics card love it im gonna have fun with this on my gamein pc X800 pro baby