File Details

File Size
7.1 MB
License
Freeware
Operating System
Windows 7/2000/Vista/XP
Date Added
July 27, 2010
Total Downloads
20,837
Publisher
Nitro PDF, Inc.
Homepage
PrimoPDF
Publisher's Description
PrimoPDF is a free PDF creator with no ads, no nagging, and simple to use interface and installer. Convert to PDF from any application by simply 'printing' to the PrimoPDF printer - it couldn't be easier. Within minutes, you can create high-quality PDFs by converting from Word, Excel, PowerPoint, and virtually any other printable file type.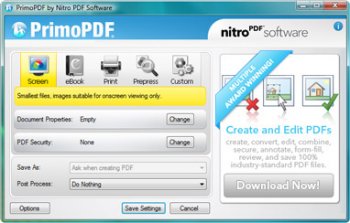 View Full-size
Latest Reviews
bopb99 reviewed v4.1.0.11 on May 11, 2009
Requiring and using .NET is a stupid decision for software makers.
Further not much against Ghostscript.
Does the job but there are better things to find which are more free.
Raysy reviewed v4.0.2 on Aug 16, 2008
I tested serveral free PDF printers.
Pro:
No Ghostscript needed,
one unobtrusive ad,
PDF passwords,
5 profiles (including one custom profile),
individual document properties for every file possible.
Quite good!
Michael
odellkevin reviewed v4.0.2 on Jun 18, 2008
Ouch! 10 MB, plus .NET for a .pdf maker? I prefer doPDF. 1.5 MB, no .NET, no Java, no GhostScript, free, and so simple a child could do it. doPDF for creating, Foxit for viewing. Small, simple, free.
freezy reviewed v4.0.2 on Jun 2, 2008
Now, framework? Then how you survive without .NET in the age of Visual Studio and Vista(which come prepackaged with .NET 3)? I think it's just a must-have, like Java Runtime. Even then, it's probably better since we can expect a better quality (using newer framework--better code)
If you're looking for really free (NO "watermark" or any limitation whatsoever), this is it. You can always block it with your firewall if seeing ads disturb you (you can also disable it's auto update)
madmike reviewed v4.0.2 on May 30, 2008
Give it 5 stars for being free, lacks pro output and command over RGB V CMYK but for general PDF output tis very good:)
madmike reviewed v4.0.1 on Apr 1, 2008
Tis a good program, but for press ready output it doesnt come close. Docudesk is the choice at around $55 but Primo being free, for most people is perhaps all they need;)
madmike007 reviewed v4.0 on Mar 7, 2008
Good as a free PDF make is, but no good for professional print output. Only does RGB and the variables for resolution etc cant be set. I would recommend Docudesk if you are looking for pro output.
Zoroaster reviewed v4.0 on Mar 7, 2008
PrimoPDF 4 requires .Net Framework 2.0, BTW
After having tried a few, I prefer PDFCreator, less heavy and more functional, with a higher ratio quality/file size... and NO Framework!
tmservo reviewed v3.2 on Nov 24, 2007
It does actually create PDFs. However, it also connects to their website continuously. It does work, but with a myriad of other free PDF writers (CutePDF Free, Doro, etc.) it's hard to find any feature this gets right that those miss, while at the same time this behaves slower and it's connection to their website is annoying and unneeded. I'd pass.
rhinohide reviewed v3.1 on Aug 8, 2007
Pros: Function seems good. Converted Chief Architect drawings to PDF, also converted 3D renderings to PDF.

Cons: It connects to www.primopdf.com EACH TIME YOU PRINT! Better get a good outbound firewall and block it unless you like having them know every file you print. Windows firewall does not block outbound traffic.