File Details

File Size
2.2 MB
License
Open Source
Operating System
Windows 7/Server 2003/Server 2008/Vista/XP
Date Added
March 29, 2016
Total Downloads
20,974
Publisher
wj32
Homepage
Process Hacker
Publisher's Description
Process Hacker is a free and open source process viewer with powerful process termination and memory searching/editing capabilities. It can show you information about processes, services, modules, handles, and more.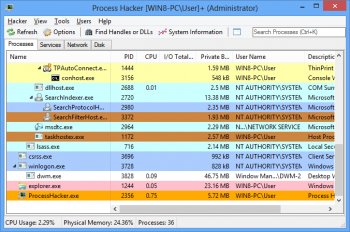 View Full-size
Latest Reviews
roman313 reviewed v2.31 on Jul 29, 2013
Best soft.
djb247365 reviewed v2.26 on Dec 30, 2011
This is pretty good software, and I use it instead of the default task manager in Windows 7. What's cool about it is that it's portable and I don't have to install it to use all the features. What I don't get is why this is labeled as "Shareware"?? I think that's a mistake that needs to be corrected. Otherwise, this is a really good program. Definitely highly recommended!
Lsavagejt reviewed v2.26 on Dec 30, 2011
The bomb.
Joseph A reviewed v2.26 on Dec 29, 2011
A good process explorer program.
Conrad.TDI reviewed v2.24 on Nov 22, 2011
A more-powerful replacement for Process Explorer.

Lives in my tray at boot, and has never failed to work in any way, nor has it ever frozen or created a BSOD. This is a really nice piece of software.
The Seeker 11 reviewed v2.22 on Sep 19, 2011
As much as I love Process Explorer, I love this just a little more.
voidx reviewed v2.20 on Aug 26, 2011
Simply GREAT and constantly evolving.
Zex reviewed v2.19 on Aug 25, 2011
This tool is great.
Few Suggestion...
1) Since v2.18 i think, PE has introduced some big lag issues.
Example: When there is going to a lot of processes opened or closed, PE uses 100% Cpu couple of sec and then it comes back down. Mouse Spikes also occur because of PE. Tried with/out plugins Enabled.
2) You might consider fixing some memory leaks & Cpu Spikes as a priority instead of adding new features.
zcrewu reviewed v2.18 on Jul 11, 2011
GO, WJ32! Great job. Thank you for this excellent software.
bellgamin reviewed v2.16 on May 30, 2011
Superb! Process Hacker (PH) does every bit as good a job as Process Explorer -- PLUS, when you want to kill a process, PH will absolutely kill it. Reason: PH has several deadly "kill" routines whereas Process Explorer has but one.