File Details

File Size
14.4 MB
License
Freeware
Operating System
Windows 7/8/10/Vista/XP
Date Added
August 17, 2022
Total Downloads
60,050
Publisher
Prog
Homepage
ProgDVB
Publisher's Description
ProgDVB allows you to watch SAT-Television and listen to Radio channels directly from satellite by using DVB-PCI cards with hardware decoders on the board, SAT-dish, and personal x86-compatible computers with Microsoft Windows installed. It has options for working with network broadcasting and Audio/Video recording of the stream to different digital-media formats.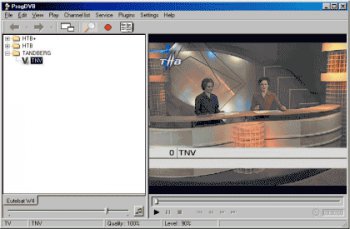 View Full-size
Latest Reviews
MaxBrowns reviewed v7.39.7 on Apr 15, 2022
don't like this tool
AvaHill reviewed v7.27.2 on Apr 2, 2019
Very good free tool for DVB enthusiasts.
johnygedeg reviewed v7.20.3 on Sep 2, 2017
really good enough
Masseytruth reviewed v7.17.4 on Feb 4, 2017
Exciting app and thank you for sharing. There are things here that I didn't think some time as of late. Because of cool such a position, to the point that is to a great degree carefully taken, we will talk a huge amount of colleagues about it. http://www.clazwork.com/how_it_works.php
rallen52 reviewed v7.06.6 on Aug 26, 2014
has anyone ever got this piece of s*** software to work?
some guy reviewed v6.63.4 on May 24, 2011
yokozuna VLC or Media player classic are both free and better take your spam else where
yokozuna reviewed v6.20.4 on Sep 22, 2009
It used to be one of the best if not the best program for watching digital TV. Not anymore.
1. it was written about problematic support for Twinhan cards. It is not limited to this company only, ProgDVB has severe problems with many tuners, esp. USB tuners
2. DVB-T http://en.wikipedia.org/wiki/DVB-T support is poor, almost nonexistent.
3. the freeware status of the application is illusory since many countries utlilize MPEG-4 codec (both DVB-S and DVB-T) which in NOT supported in the freeware version of the program.It is supported in the paid version. The freeware version supports obsolete MPEG-2 only.

If you want to watch H.264 DVB-T better use Mirillis Splash Player Lite http://www.mirillis.com/splash.html which supports both H.264 and DVB-T (will support American ATSC-T soon) out of the box.
Dawson40 reviewed v6.11.2 on Jul 26, 2009
Garbage. Crashes when trying to run
some guy reviewed v6.11.2 on Jul 24, 2009
could some suggest a good card for this best bang for the buck , and if some one could post a good used dish to use for this ?
thanks
This is quite literally the only program seems to recognize the digital side of my hybrid AVerTV ExpressCard tuner that I got with a Dell laptop purchase. I don't know what exactly they're doing that nobody else can seem to achieve. When this program works properly it simply has no peer, however it does seem to crash on occasion. Thankfully no blue screen, the program just vaporizes. Once stability is increased a bit, this will be an easy 5 star.