File Details

File Size
2.0 MB
License
Freeware
Operating System
Windows 2000/Server 2003/XP
Date Added
April 18, 2006
Total Downloads
19,836
Publisher
Dudez
Homepage
ProtoWall
Publisher's Description
Protowall is a lightweight program that runs in the background, taking up little CPU and memory, while blocking thousands of bad IP addresses. All the work is done by the driver that filters each packet, extracts the IP header and then compares the address with the ones in the table, then either discards or permits the packet to pass. The GUI is essentially a "driver instructor" that communicates to the driver the IP list to check against. The GUI also receives notifications from the driver when a packet arrives and when actions are performed with a packet. It Blocks both inbound and outbound packets. It blocks incoming packets from Internet addresses that are on the Bluetack Blacklists. This is handled by another program called the Blocklist Manager. This program finds and retrieves lists of bad IP addresses. They are sorted (overlapping resolved) and then converted to various formats such as Protowall, PeerGuardian & other common applications and firewalls.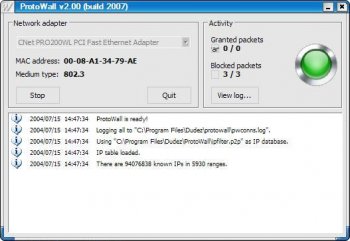 View Full-size
Latest Reviews
Bagobie reviewed v2.01 Build 9 Beta on Jun 3, 2006
So happy it's still under dev... love this program. For christ sakes, for people having problems installing it, they made a VIDEO just for you dum suma biches. Quit b****ing, once you get the driver working protowall works beautifully.

Video is here:
http://www.bluetack.co.u...sh/Protowall_flash.html
zaga reviewed v2.01 Build 9 Beta on May 29, 2006
I love this tool. This and PG2.

Keep the internet free.

Call your congressman and force him vote against the COPE bill!

http://www.savetheinternet.com/
ArabianNight reviewed v2.01 Build 9 Beta on May 29, 2006
This + PG2 = FREEDOM
robertguda reviewed v2.01 Build 9 Beta on May 29, 2006
notwithstanding not being able to get it to run, (followed all the steps on the homepage faq) I gather it a very usefull program. i took refugee in peer guardian that worked flawlessly since first install. the possibility to download prefabbed blacklists is Godsend as is the experience of thousands of other users on their respective programs homepage. a very welcome & needed addition to using a firewall.

(one day later)
installed it on my dual xeon server and no problem. up and running. my other machine is an amd64, maybe i've got some issues there. in any case worthwhile trying out and using !
trebor reviewed v2.01 Build 9 Beta on May 29, 2006
Since my firewall is a swiss cheese (SKPW) as far as IP blocking is concerned, i've been using an IP specific blocking app. Tried this one a few times, but failed to install or had CPU hogging problems....nevertheless worth a re-try as the present blocker does not allow hit counting.
urbanriot reviewed v2.01 Build 9 Beta on May 28, 2006
Advertised as working on Windows Server 2003, however I have never had it successfully install and/or work on any system with any type of install, with various service packs. I've tried 2.0 throughout various beta releases and they never go.
Bagobie reviewed v2.01 Build 7 Beta on Apr 9, 2006
This program does what it's supposed to, no need giving it a bad rating because you 'think' you don't need it. It takes up VERY little resources (unlike Peerguardian), and this version is much more stable than the last (hense no driver bug).

And by the way, you can edit the IP filter so it doesn't block certain sites you visit. You can do this manually or if you're like me and you always want the most up-to-date blocklist use Bluetack's Blocklist Manager, and delete your used ranges from there.

As of today mine's blocking 2,893,411,942 known IPs in 173,721 ranges. Gotta love it.
RootWebGod reviewed v2.01 Build 7 Beta on Apr 8, 2006
For its intended use, I think this is a great application.

This allows you to filter unwanted communication with addresses for any peer-to-peer application that may or may not have IP filtering built in.

While not in a P2P application, you could use a less restrictive set of IP filter rules for general Internet usage.

Overall I think it is a great software application and I'm happy there is finally an update for it!
Blue Joker reviewed v2.01 Build 7 Beta on Apr 8, 2006
Well,
a program that works and is fine
and Absolutely useless...
There's no reason to block any ip range ,
P2P Applications which have an Ipfilter built inside
make this job and avoid the unfair connections
just for P2P connections .
Why Should I Block A DoD Ip , be freezed in the simply action to see a DoD site ?
This program is only a glass of water...
a fine glass of water.
war593122 reviewed v2.01 Build 7 Beta on Apr 8, 2006
Wow, finally a real update. Figured this project was dead and all, seeing as there is now Peer Guardian 2.