File Details

File Size
1.0 MB
License
Freeware
Operating System
Windows 2000/9x/Server 2003/XP
Date Added
February 25, 2003
Total Downloads
90,840
Publisher
TweakNow
Homepage
RAM Idle Standard
Publisher's Description
RAM Idle will increase your performance by making more physical memory available for your system. This program automatically frees up a set amount of RAM and defragments it when a minimum of free RAM is reached. RAM Idle ensures your application load time will be quicker and more responsive.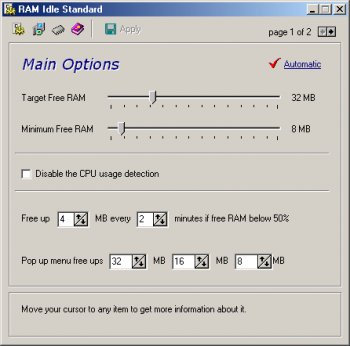 View Full-size
Latest Reviews
Mastertech reviewed v5.0 Beta on Dec 1, 2006
These programs are all snake oil and actually REDUCE performance. Avoid at all costs! Anyone who claims these improve performance in anyway have no concept how Windows Memory Management works.

http://mywebpages.comcas.../SupportCD/XPMyths.html
gigsvoo reviewed v5.0 Beta on Oct 6, 2004
The file is corrupted, many many times downloaded.
ice_box reviewed v5.0 Beta on Feb 26, 2003
been using in .Net 2003 adv server & works like a charme
"a keeper" indeed
controler reviewed v4.8 Beta 3 on Dec 10, 2001
This progy is going to be a KEEPER
Nice easy to use GUI and funtions seem to be working well
Better than paid for programs on market today.
Richard30ky reviewed v4.8 Beta 3 on Dec 9, 2001
very good and works as good as any other memory product that would pay for very good for setting your catch also without over tweaking simple to use doesnt take a rocket scientist to use also (free) *****+
animespy reviewed v4.5 RC 4 on Aug 17, 2001
Uh, it does more than display RAM, MrCodeDude. Have you looked at the configuration? It deserves praise. I like how it automatically adjusts cache settings, optimizations, and such.
MrCodeDude reviewed v4.5 RC 1 on Jul 20, 2001
I don't think this program did anything for my machine, it just displayed how much RAM I did have available. And once it crashed, it led me onto a horror story. I unistalled my recently downloaded Ad Killers and most previous installed programs. Other that that, installation and uninstallation is fine. I don't see any OnFlow files in my machine, so this little program doesn't seem to do anything except display how much RAM you have avaiable.
AlanS2001 reviewed v4.5 Beta 1 on Jul 3, 2001
The configuration options are a s***load better set out than version 4
downer reviewed v4.0 RC3 on Jun 9, 2001
i use win98 with 75mb ram .. it works excellent.. lots more speed and caching is excellent.. i referred my friend to the software and he has winME with 288mb ram and loves it.. with his 3d rendering apps it works wonders!
joko reviewed v3.2.1 on Apr 26, 2001
IT'S THE POWERFULL AND WONDERFULL UTILITY SOFTWARE.
YOU CAN SAVE YOUR MEMORY FOR OTHER APPLICATION.
BUT NO GOOD FOR GAMES APPLICATION. YOU MUST DISABLE THIS PROGRAM WHEN YOU LAUNCH 3D GAMES.