File Details

File Size
0.5 MB
License
Freeware
Operating System
Windows 2000/9x/Server 2003/XP
Date Added
August 24, 2001
Total Downloads
184,867
Publisher
Macecraft Software
Homepage
RegCleaner
Publisher's Description
RegCleaner is an easy to use program that can easily get rid of those old and obsolate registry entries created by software that you have destroyed ages ago. You don´t have to be any expert to use this program. Note that this program is not like those other so called registry cleaners, they search any filenames from registry, then if the file doesn´t exists anymore they remove the registry key or value where this filename was. But RegCleaner shows you the list of software that are registered in the registry and by checking checkboxes you select which software you don´t have anymore and RegCleaner removes all registry created by those programs automatically. You can also remove start up programs that are started behind your back and can dramatically decrease your computer´s performance.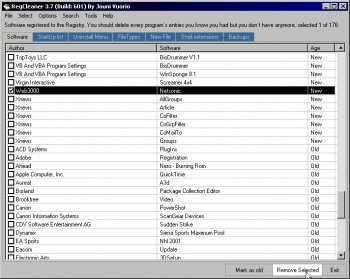 View Full-size
Latest Reviews
Point Zero reviewed v4.3.0.780 on Jul 19, 2007
Worthless crap.
Mastertech reviewed v4.3.0.780 on Jul 9, 2007
This program is SEVERELY outdated and can cause problems since it has not been updated since 2001 and has known bugs. Some of which were corrected when the author integrated this into his JV16 powertools program which since 2003 has been a PAY to play program. He claims he rewrote the registry cleaner when he did this.

http://fileforum.betanew...rTools_2007/987567453/1

The new updated Registry Cleaner can now be found as a standalone PAY to play program call RegSupreme:

http://fileforum.betanew...RegSupreme/1063650971/1

JV16 Power Tools was initially free and the author received free beta testing in his forums from enthusiast end users, until one day for no reason he simply killed the forums and left every single person there in the dark. He then released these all as pay programs under the company Macecraft:

http://www.macecraft.com/

I have no respect for the author for the way he did this. Nor for the way he treats the end users who used and helped him test his software.

Registry Cleaners do NOT improve performance this is a Myth!

http://mywebpages.comcas.../SupportCD/XPMyths.html
AlanS2001 reviewed v4.3.0.780 on Dec 25, 2006
This program looks like it has been replaced by jv16 PowerTools, which is made by the same people.
blakedough reviewed v4.3.0.780 on Feb 5, 2006
you really need to know how to use this. It has some great features. I can't live without it.
MonsterB reviewed v4.3.0.780 on Nov 20, 2005
This program was the best in 2001. It's a little out dated now. RegSupreme and CCleaner do a better job.
Velocition reviewed v4.3.0.780 on Sep 5, 2005
Not the worst program, but it has a couple major bugs. At times, when you execute the program, the program doesn't come to the foreground, but is running in the background. Execute it again, and another entry for it is created, running in the background. It finally comes to the foreground after closing the previous two entries and executing it directly (non-shortcut). I also don't like the installation/uninstallation process. You are forced to run the uninstall from the program folder. Finally, when restoring entries from the backup, you are not allowed to stop the process. You must wait for it to finish. This is not good because the "Remove Selected" and the "Restore Selected" buttons are right next to each other. This program is prone to mistakes.
Nikkie reviewed v4.3.0.780 on May 19, 2005
Very nice porgram and easy to use . also its free !!
Noldster reviewed v4.3.0.780 on Jul 16, 2004
I ran this on a spare laptop of mine that runs really slow. After it cleaned the registry, I noticed a drastic improvement in my computer's performance. GJ with this program.
klumy reviewed v4.3.0.780 on Feb 17, 2002
An excellent piece of software !!
First_Darkness reviewed v4.3.0.780 on Jan 31, 2002
Excellent, It removed registries that other software couldn't remove.