File Details

File Size
4.5 MB
License
Shareware
Operating System
Windows 2000/9x/Server 2003/XP
Date Added
October 31, 2011
Total Downloads
14,688
Publisher
PC Tools
Homepage
Registry Mechanic
Publisher's Description
Registry Mechanic will safely clean and repair Windows registry problems with a few simple mouse clicks. Problems with the Windows registry are a common cause of Windows crashes and error messages. By regularly cleaning and fixing your registry, your system should not only be more stable but it will also help Windows and your software run faster. It uses a high-performance detection algorithm to quickly identify missing and invalid references in your Windows registry. These problems can occur for many reasons including being left-behind after the un-installation or incorrect removal of software, by missing or corrupt hardware drivers, or orphaned startup programs.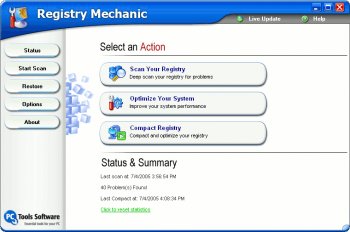 View Full-size
Latest Reviews
Terijan reviewed v10.0.0.126 on Aug 10, 2010
Crap software, avoid it all costs!
I downloaded trial version and could not to remove it from my computer. After uninstall PC hangs up. If i do reset - windows don't boots up. System restore from DVD instalation disk fixed it but then again i have this software in my computer. So i assume you can't get rid of this software untill you pay for it ? :P

My previous comment about Registry Mechanic 9 was removed due to some reason, so i wrote it again. Now i have bad opinion about this file forum too :)
mike59 reviewed v10.0.0.126 on Aug 6, 2010
"By regularly cleaning and fixing your registry, your system should not only be more stable but it will also help Windows and your software run faster."

This statement is absolute bullsh1t!!
$30 per year Scamware!
ellenking reviewed v9.0.0.114 on Jan 5, 2010
Registry Mechanic is really good with the powerful and integrated functions. Here I found a review about this:
www.system-tools-software.com/knowledge/free-registry-cleaner-software-boost-pc-speed-performance.html
CyberDoc999 reviewed v9.0.0.114 on Oct 20, 2009
After I ran this most of my programs would not start and I had to re-install them.....

waste of my time!
shodan816 reviewed v8.0.0.907 on Sep 23, 2009
This app has one serious flaw. When you click the 'X' to close it, IT DOESN'T CLOSE ! Instead, it minimizes to your tray and you have to take extra step to right click on the tray icon and once again click on CLOSE. I don't know about the rest of you, but when I click an 'X', I expect the app to CLOSE ! Other than that, it will find and fix many registry errors. Not all, by a long shot, but used in combination wiith other registry cleaners, it can prove to be useful. Low rating is ONLY because of the closure issue . . .
gmartau reviewed v8.0.0.902 on Jun 5, 2009
I only get this error "Unicode systems are currently not supported". Is this a joke? Windows is Unicode since Windows NT continuing with 2000, XP, Vista, or they don't know what is Unicode. I don't trust a program made by such programmers.
From the forum I understood that the program works on US systems only, not if I have installed an Interface language pack for Windows.
Version 8, 2009 and such unsolved problem?
tipstir reviewed v7.0.0.1010 on Jan 7, 2008
I'll give this a 5 as I use to use Advanced Registry Optimizer, then Tweak PowerPack Pro 2006 and CCleaner has a little registry cleaner for free. So I wanted to try Registry Mechanic to see what's everyone talking about. After registering the program I was able to do a test run.

Well boy after using the above programs to clean the registry and see Mechanic found some more problems than the other seem to missed! I ran program remotely into wireless systems from wired source it work without a hitch.

Pack the registry down to 1MB from 40MB still not bad. It has some other tools I see not reason to use them, like they were just thrown in there to fill the gap.

But that's all this program is good for to manage the registry. And I gave it 5 out 5 for finding more crap that the others failed to find..
tscar12 reviewed v6.0 on Jan 1, 2007
This is the one registry cleaner that you can trust. It only picks up the junk left over from an uninstall and broken kin ks in the registry. I have so much confidence in this program that I set it to delete automatically
keisan12 reviewed v6.0 on Dec 2, 2006
I dont know why,when i try to scan my com,
a error appear=Registry Mechanic is missing core app....
RWW reviewed v5.1 on Apr 6, 2006
Had heard so much about this program I tried it. It is one of those that finds everything then says register and you can eliminate them. How is that supposed to tell you anything? Poor way of doing things.