File Details

File Size
5.8 MB
License
Shareware, $20.00
Operating System
Windows 7/Vista/XP
Date Added
June 1, 2017
Total Downloads
33,778
Publisher
InCode Solutions
Homepage
RemoveIT Pro
Publisher's Description
RemoveIT Pro locates & removes many new Spyware, Malware, Virus, Worms, Trojan's and Adware that other popular AV programs missed.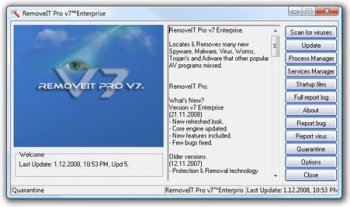 View Full-size
Latest Reviews
CyberDoc999 reviewed v18.5.2015 on Apr 18, 2016
This should win an award for the most false positives ever
it flags lots of files that are part of windows OS....
then it tells you that the free version will not delete these false positives...
so you have to pay money to ruin your OS...

How does this type of company stay in business?

I guarantee that all the 5 star reviewers work for this POS company.....
ScottAllo reviewed vv4 - SE 11.6.2012 on Sep 17, 2012
Does exactly what it promises. Default settings are usually the right ones. I've now used this on my own computer and on another system infected with much malware... RemoveIT still worked well.
pcManager reviewed vv4 - SE 21.7.2011 on Aug 10, 2011
Another great tool to enhance a computer's safety and performance. Easy to install, and use.
techie15 reviewed vv4 - SE 21.7.2011 on Jul 28, 2011
I have read this reviews and I must say that there is nothing wrong with this software, it is working good on Win7 system and it has save me many times!
RvHabsburg reviewed vv4 - SE 21.7.2011 on Jul 23, 2011
I am a regular PC user. I joined BetaNews/Fileforum to write a review for those of you that are maybe less experienced than I am and considering installing this app:DON"T INSTALL THIS THING! Not only will it de-stabilise anyone's system but the results are simply wrong- your sys32 files are necessary for keeping the Operating system trouble free and intact.If you never had to reinstall your OS before you will after using this junk/useless application..I am in fact, wondering what the authors are thinking putting this out there..it is UNETHICAL at least, and a joke at best.I think they want to make money off the unsuspecting ( there is a paid version) or somehow gain access to people's PC's and use them as bot machines..there has to be some ulterior motive connected tothis or it wouldn't be free and put out there for novices to install not knowing the ramifications of modifying important system files that this app marks as 'malware'..Please install a safe anti-virus and removal application- This is definitely NOT one of them ! .Keep Looking or install Microsoft's Security essentials ( I have zero connection to Microsoft nor any allegiance to the company- in fact more closely, disdain for their monopoly) if you can't pay for security suites or real time protection and a removal solution...Nonetheless, this app is not to be trusted whatsoever...
niknetpc reviewed vv4 - SE 21.7.2011 on Jul 21, 2011
Horrible crap,too many false positives..Dear developers,stop post fake one time five star reviews and everything be honest.Dirty way to get your bucks.. DO NOT INSTALL AND USE THIS IF YOU DONT KNOW HOW TO RECOVER YOUR PC!
DellMc reviewed vv4 - SE 23.6.2011 on Jul 21, 2011
I have been using RemoveIT Pro for around 2 or 3 years now. I think its great.
Jalandar reviewed vv4 - SE 23.6.2011 on Jun 24, 2011
This program should remove itself. It should be considered malware.

I tested it in a sandbox virtual machine that I have intentionally infected, and it didnt pick up even the older infections. But it loves to find false positives, and will do it even with a fresh install. The average pc user wont know this and will just blindly allow it to "clean" those false infections. It is then only a matter of time until the user's windows install becomes corrupted.

I will assume the rave reviews are either shill, or people who just don't know any better. Fileforum needs a -1 rating for Dangerous.
Falcon03 reviewed vv4 - SE 26.5.2011 on Jun 14, 2011
Do not listen to the 5 star reviews.

This program is a joke and hasn't detected a single virus that I've had to deal with. I work in IT and received this program from a coworker. Tried it out several times and was in awe at all the System32 files marked as viruses (atleast 11 on each computer). I ran this on a fresh install of Windows 7 and it returned 17 infected System32 files.

It failed when I ran it on a simple virus that pretended to be a windows 7 antivirus program located in the user's Temp directory and this program passed right over it, yet it declares that 20 System32 files are dangerous or infected.

This program is awful, and will only do more harm to your computer.
Geeks10 reviewed vv4 - SE 8.2.2011 on Feb 10, 2011
Find most malware threats
Small installation
Easy to use