File Details

File Size
4.0 MB
License
Freeware
Operating System
Windows (All)
Date Added
November 14, 2020
Total Downloads
21,186
Publisher
Angus Johnson
Homepage
Resource Hacker
Publisher's Description
Resource Hacker has been designed to be the complete resource editing tool: compiling, viewing, decompiling and recompiling resources for both 32bit and 64bit Windows executables. Resource Hacker can open any type of Windows executable (*.exe; *.dll; *.scr; *.mui etc) so that individual resources can be added modified or deleted within these files. Resource Hackerâ?¢ can create and compile resource script files (*.rc), and edit resource files (*.res) too.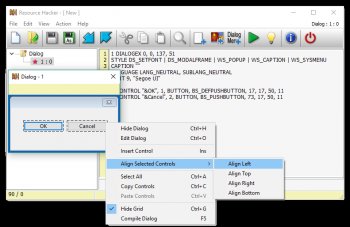 View Full-size
Latest Reviews
cricri_pingouin reviewed v5.1.7 on Jan 4, 2019
I've been using that for about 20 years, and it's always been great. And it still gets updated! And it's free!
smaragdus reviewed v4.5.30 on Dec 9, 2016
Amazing program, regularly updated, portable version available.
JCookes reviewed v3.6 on Jan 30, 2015
@Itsnow,

Yep, apparently BetaNews started to use the same dirty shady tactics as MajorGeeks does for a long time, digging up old garbage to make their userbase grow.

Time to search for a better software informer.
ltsnow reviewed v3.6 on Jan 29, 2015
Great little program, but this download is almsot 4 years old.
rip_pit reviewed v3.5.2 Beta on Jan 28, 2015
simple but powerfull ! a must have
Karmil reviewed v3.5.2 Beta on Sep 14, 2010
There is one more nice and free resource editor - http://melander.dk/reseditor/
for Delphi, C++Builder ...
Plumber reviewed v3.5.2 Beta on Sep 13, 2010
From the author's home page:

I needed to access resources in a 64-bit Windows executable so I've just updated Resource Hacker to open (i.e. decompile/recompile) these files too. This new version also displays PNG image resources. However, please understand that I have no intention of reviving this project so please DON'T ask for other features. Also, because this version has only had limited testing I'm releasing it as a beta version.
stisev reviewed v3.4.0 on Dec 12, 2006
The best. Hands down.
GravityFX3 reviewed v3.4.0 on Aug 2, 2005
The best one!
itsumo reviewed v3.4.0 on Mar 25, 2002
This program just keeps getting better and better. I must-have for anyone.