File Details

File Size
61.3 MB
License
Freeware
Operating System
Windows 2000/9x/XP
Date Added
October 12, 2020
Total Downloads
51,621
Publisher
Tomasen
Homepage
SPlayer
Publisher's Description
SPlayer is a simple and yet practical media player, which supports all the popular media formats, including DVDRip, HDTV, RMVB, QuickTime, MPEG-2, MPEG-4, AC3/DTS, VP3/6/7, Indeo, XVD, OGG/OGM, APE, FLAC, TTA, AAC, MPC, 3GP/AMR, and subtitles.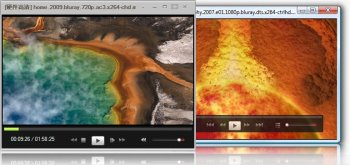 View Full-size
Latest Reviews
dyingjedi reviewed v3.7.0.2124 on May 8, 2017
Best all around media software player all in one.

Needs update an Splayer to support 4K, H265 and also needs to be able to be portable .

All download links seems to be broken please fix this.

Justin Cram
DyingJedi
barrytbutler reviewed v3.7.0.2124 on Jan 29, 2014
5 stars!
Yogurth reviewed v3.7.0.2124 on Nov 24, 2012
@Achauhan...I believe that You can choose in which folder the Splayer downloads the subtitles, and You can easily manage them form there.
Achauhan reviewed v3.7.0.2124 on Oct 14, 2012
I have question about this splayer, I know this is the best player till today as I know,
My question is "At run time splayer download srt file(subtitles) online, so how can i save these srt files for offline use".
Please reply if any one know.
Music4Ever reviewed v3.7.0.2124 on Apr 22, 2012
After GOM Player added tool-bars & ads in the actual program I investigated S-Player ~ It excellent & does all I want with no bundled ad-ware whatsoever ~ If you still use the MS Media player do yourself a favour & dump that bloated slow & bulky player ~

Great find ~
ppscslv reviewed v3.7.0.2124 on Mar 30, 2012
I love that player! It's my favorite!
beliha reviewed v3.7.0.2124 on Jul 19, 2011
Excellent player!
Better, faster, uses less CPU than VLC
Has tons more options than Media Player Classic and VLC combined!
Best interface hands down of all players I've tried.

Only problem is, when you start it, the same dialog pops up, over and over and over again; "SPlayer is not your default player", even when you check on "Don't ask me again", it still pops up... and its starting to become annoying! (even thought it is my default player).

Other than that, its the best player out there!
raf.rsr reviewed v3.7.0.2124 on May 25, 2011
There has been no change in the latest version as usual, I had to UNINSTALL that it lacks many things. Although it is very fast and plays everything.

I keep waiting for a fuller version like other players, bsplayer or kmplayer. Looks much wasted potential.

Good: The player is very Fast and very compatible with all formats
Bad: Is a Toy player with almost no options and with many errors
Rachel9 reviewed v3.7.0.2124 on May 15, 2011
Great player!
CyberDoc999 reviewed v3.7.0.2124 on May 13, 2011
What are you talking about???
the old version had bugs this new version
is great and fantastic !!!!!!!!!!!!!!!!!!!!!!!!!!!!
100 stars