File Details

File Size
10.2 MB
License
Commercial Demo, $1250.00
Operating System
Windows (All)
Date Added
July 2, 2012
Total Downloads
8,155
Publisher
Docco Labs
Homepage
SQL Stripes
Publisher's Description
SQL Stripes is a robust Monitoring & Controlling application for Microsoft SQL Server - providing essential data that every DBA needs. It is an all-in-one Enterprise solution for multiple SQL Server management. The main concept is that every SQL Server gets a stripe which can be monitored and controlled.
SQL Stripes 2012 is a Powerful Control & Management Console for Microsoft SQL Server/s.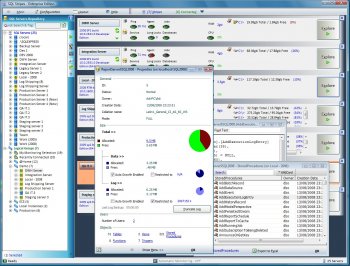 View Full-size
Latest Reviews
benden reviewed v1.77 Build 920 Beta on Jul 14, 2005
This product is awesome! The company I work for has recently purchased it and we're (a team of DBA's) using it to do everything now.
btw, I love the new SQL 2005 support - keep up the good work!
AnthonyB reviewed v1.77 Build 920 Beta on Jul 3, 2005
Essential SQL Server management tool.

In response to the comment about it going from beta to commercial product - surely you can't begrudge a person trying to make a buck from all the time and effort on a project? As someone who spent a lot of time testing and providing feedback on the betas the dev did reward me with a free copy so he's definitely not some heartless money grabbing mercenary.
thehunger reviewed v1.70 Build 718 RC2 on Feb 17, 2005
Sure, it is a very nice tool.
You know how it got that way? With the help of the hundreds of people that helped test it and who suggested improvements.

SQL Stripes is yet another of those freeware turned commercial software products. I have no problem with this, only that it should have been clear that was the intention all along. Ie. "HERE IS A PRELIMINARY VERSION OF A PRODUCT WE PLAN TO RELEASE AS COMMERCIAL SOFTWARE - PLEASE HELP US BETATEST IT".

IMHO, there is a difference between betatesting and helping open source or freeware authors, and betatesting to help those that plan to charge money for something.
Rolphus reviewed v0.90.200 Beta on Mar 24, 2004
I've been using this for a couple of weeks now. As someone responsible for maintaining and developing on one live server (with a couple of hundred users), one development server (with a few developers), and 3 other servers running assorted other databases, I can say I've finally found a utility that lets me quickly (and quickly really is the key word here) monitor my servers, run queries, access and export data on demand, and generally "keep an eye on things".

I downloaded this app out of curiosity, and now it's running several hours a day just so I can make sure things are going smoothly. It gives me visibility of problems as they happen, and doesn't place an appreciable load on the server.

Truly great work - the developers deserve a great deal of respect for this application!

Rolphus
loruss reviewed v0.80.900 Beta on Mar 12, 2004
This program DELIVERS! from my experience as veteran SQL admin, keeping your eyes open on your productions servers is not easy. This tool is exactly what I looked after. Thanks Adi!
aetchin reviewed v0.80.900 Beta on Mar 12, 2004
One of the BEST "keep it simple" db control programs, helped me alot with remote servers at work...
chowda reviewed v0.80.800 Beta on Mar 8, 2004
I am fascinated! I've been a DBA for a long time and was looking for such tool. And to my best surprise - It's a free one!
AnthonyB reviewed v0.80.600 Beta on Jan 5, 2004
0.80.600 Beta supports MDAC 2.80 no problem.
Lanfeust.xit reviewed v0.80.400 Beta on Oct 17, 2003
Seems great but can use because the programd does not recognize MDAC 2.8 ! Ir tells me that my version is too old !! :)
Waiting for an update

Regards...
AnthonyB reviewed v0.80.100 Beta on Sep 25, 2003
To the previous poster - go install MS XML 4.0 SP2 available from MS site or check new version of SQL Stripes.