File Details

File Size
1.4 MB
License
Freeware
Operating System
Windows 7/Vista/XP
Date Added
November 22, 2013
Total Downloads
2,900
Publisher
Scott Merryfield
Homepage
Scott's Gmail Alert
Publisher's Description
Scott's Gmail Alert is a notification program for Gmail, Google Apps, Google Calendar, and RSS feeds which quietly sits on your taskbar until it discovers new messages in up to five separate accounts. Send quick emails without logging in to Gmail directly, including replying to received messages and website email links. Set eye catching colors to alert messages to help differentiate important emails from others, using either the default or Windows Aero Glass theme.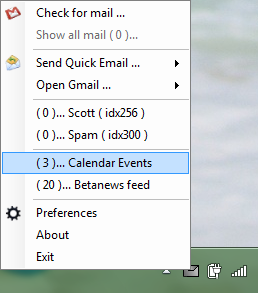 View Full-size
Latest Reviews
Kramer97 reviewed v5.7 on Jul 9, 2012
Took a look at this after Scott1209 spammed Gmail Notifier Plus' reviews with a link to this. Sure, Scott's Notifier works. But it's ugly and the interface is circa 2000. Tray icons are a relic of the past and offer poor usability and notification options. And then theres all the BLOAT. This thing is insanely bloated if all you want to do is check your email. I don't need Calendar, News, Weather, RSS - I just want it to check my multiple Gmail accounts. Additionally, it's not open source, and that's a huge negative. Taking points off for a pretty outdated and broken website (the screenshots page doesn't contain anything). If you're thinking of ditching Gmail Notifier Plus for this, don't waste your time.
pjb reviewed v5.7 on Sep 9, 2011
Very good application. Low on system resources.
Works really well. Does what is says :)
Steve1209 reviewed v5.5 on Jul 6, 2011
Very BEST GMail notifier available, V5.5 has more options then you will ever need, Scott is a genius with his SGA program, Get it, it's FREE, you won't be sorry!
JakeFish reviewed v5.5 on Jul 6, 2011
WOW this GMail Notifier is beyond AWESOME, for free, it's hands down the most feature rich I've tried and I've tried them all. Try this one you will never need another GMail notifier program! It does everything and then some!
Steve1209 reviewed v5.00 on Dec 6, 2010
I've been testing the beta's leading up to V5 as well, this V5 release is AWESOME with so many changes. This is NOT just a GMAIL notifier, it has a Google calendar interface, weather interface, RSS interface, Google talk interface & it's so very customizable with sounds, colors, ease of use. If you find a better tool, please let me know what it is! This one has everything you could want & more. If you want it to do something else, just ask Scott in an EMAIL, he is a very creative programmer and listens to the user, he'll include it if it's possible to code it!
pjb reviewed v5.00 on Dec 6, 2010
Been using the beta's of this release for a while, and found them very good.
I like the improvements over the previous version.
Great application.
pjb reviewed v4.7 on Sep 11, 2010
New version works really well. Using 4.7.8.15
Nice application, low resources.
Plumber reviewed v4.7 on Aug 18, 2010
.NET 4?

Nuthanks
pjb reviewed v4.5 on Jul 2, 2010
Great little application. I started to use this instead of the firefox add-on.
Easy to setup and use. Well worth giving it a try.
Steve1209 reviewed v4.2 on May 4, 2010
Scotts GMail Alert 4.2 is the best notifier available, It has a support forum http://gmailalert.proboards.com/index.cgi which will help you resolve any problems you might have or answer any questions you might have, IF you need something extra request it on the forum, Scott will include in in the very next release if it's possible!!