File Details

File Size
2.5 MB
License
Open Source
Operating System
Mac OS X
Date Added
March 7, 2015
Total Downloads
27
Publisher
Scotty
Homepage
Scrabble3D
Other Versions
Publisher's Description
Scrabble is a board game with the goal to place letters on the board like in crosswords. Up to four players can take part in a game. Every player gets a limited number of letters (usually 7 or 8) per move and tries to compose a word using these letters with the prerequisite to connect it with at least one existing word on the board. The scoring depends on the letters (rare letters earn more points) and the premium fields that multiply either the value of a letter or the whole word. The player with most points wins the game when no letter is left (or can be placed anymore).
Scrabble3D extends the conventional idea of Scrabble by adding a third dimension. You do not only play from left to right or top to bottom but as well 'into the depth' that means in front or back of tiles. Scrabble3D has more fields and uses therefore a larger letter set. Compared to the classic game, the major focus is on the search for valid and precious combinations, especially when the cube gets filled with tiles.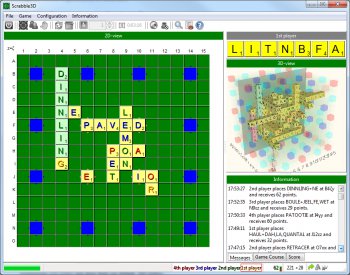 View Full-size
Latest Reviews
Be the first to write a review!
Someone reviewed v on Mar 19, 2023
Pros:
Cons:
Bottom Line:
Someone reviewed v on Jul 5, 2022
Pros: 555
Cons: 555
Bottom Line: 555