Other Versions
Publisher's Description
Simple Internet Meter is a new bandwidth monitor. After my program CS Fire Monitor came out years ago I had many requests for added features. Many of those features where not possible to add using the Windows API. Such as seeing what is internet traffic and what is local network traffic. The only way to accomplish this is to look at the packet data. So I made this program using WinPcap and PacketX.dll.
The Lite Edition is Free; however, does not allow Remote View; Bandwidth Quotas; Quota Alerts; nor Determine what is Internet & Local Traffic.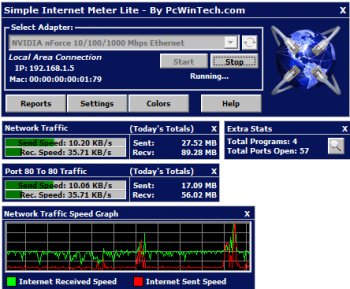 View Full-size
Latest Reviews
Be the first to write a review!
Someone reviewed v on Mar 19, 2023
Pros:
Cons:
Bottom Line:
Someone reviewed v on Jul 5, 2022
Pros: 555
Cons: 555
Bottom Line: 555