File Details

File Size
44.8 MB
License
Freeware
Operating System
Linux
Date Added
January 14, 2017
Total Downloads
12,112
Publisher
Skype Ltd.
Homepage
Skype
Other Versions
Publisher's Description
Skype is software that enables the world's conversations. Millions of individuals and businesses use Skype to make free video and voice calls, send instant messages and share files with other people. You can use Skype on whatever works best for you - on your mobile, computer or a TV with Skype on it. If you pay a little, you can do more â?? like call phones, access WiFi, send SMS and make group video calls. You can pay as you go or buy a subscription, whatever works for you. And in the world of business, this means you can bring your entire ecosystem of workers, partners and customers together to get things done.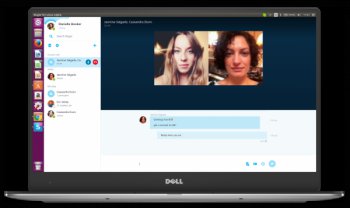 View Full-size
Latest Reviews
Basically Skype's website wrapped in a web browser.

Expect it to be a resource hog. Eats half a gig of RAM for breakfast.
Darkk reviewed v2.1.0.81 Beta 2 on Jan 21, 2010
Sound and video are working just fine on Linux, this latest version as well as previous versions.

No troubles.
kaotixx reviewed v2.1.0.81 Beta 2 on Jan 21, 2010
Sorry g**s
SKYPE on LINUX is a mass ! Nothing works exspecially no sound ! Forget it !
Artem S. Tashkinov reviewed v2.1.0.81 Beta 2 on Jan 21, 2010
Doesn't let use my KDE/Qt theme, otherwise a decent piece of software.

Changelog is here: http://share.skype.com/s...a_2_aka_talking_sc.html
sjc001 reviewed v2.0.0.43 Beta on Feb 6, 2008
There is something wrong with the deb install file because it won't install...

P.S.

It seems that you have to uninstall the old version before installing this one...
TarrantM reviewed v2.0.0.27 Beta on Dec 6, 2007
Ugh, it sucks more bandwitdh than any of the SIP based Voip providers - probably because it operates on a p2p model.

Grab yourself one of the SIP based phones and ditch the proprietary Skype already.
Frostek reviewed v1.4.0.118 on Nov 11, 2007
The new beta (v2.0.0.13) has finally added video support. I've tried it and it works a treat! :-D
Frostek reviewed v1.3.0.53 on Nov 8, 2006
Change Log
04.10.2006 Skype for Linux 1.3.0.53

* bugfix: Call Tab: Call participant display name is distorted/overlapped.
* bugfix: Disable toolbar user items if the user has been deselected via the Escape key.
* bugfix: Display an error in the Options dialog if no sound devices are detected.
* bugfix: Display correct input/output device in technical info tooltip.
* bugfix: Display the randomly chosen port instead of 0 in the Advanced options.
* bugfix: Don't play incoming chat sound for /alertsoff windows.
* bugfix: Double-clicking call history items whilst offline should not attempt to call.
* bugfix: Emoticons not displayed sometimes (adjacent to word) or displayed incorrectly (in the middle of url).
* bugfix: Fix connecting sound (should not loop).
* bugfix: Fix title bar for Hello! from Skypename.
* bugfix: Multi Chat: "Add more people to this chat" is missing for languages with hieroglyphic scripts.
* bugfix: Offer ALSA/OSS options with number of devices available shown.
* bugfix: Options dialog was shrinking to hide an option in Advanced, moved to Privacy.
* bugfix: Options layout is too big - can't see option's save and cancel buttons in 1024x768 resolution.
* bugfix: Promote Add to Contacts: Yes share my contact details doesn't open Auth request.
* bugfix: Promote Add to Contacts: remove avatar and make window smaller.
* bugfix: Reset audio device if device no longer exists on startup / options dialog.
* bugfix: Show *.png/*.PNG files in the profile avatar dialog.
* bugfix: Some languages have an "|" in the "Add Contact" button.
* bugfix: Tab ordering in Options - Sound Devices dialog.
Frostek reviewed v1.3.0.30 Beta on Aug 17, 2006
Sadly, Skype progrobly only has one programmer working on the Linuxversion (in his lunch break!), but I'm very glad to see an update.

Still working okay here! Indispensible to me for keeping contact with distant family members.
gawd21 reviewed v1.3.0.30 Beta on Jun 28, 2006
About time!

"Reviewer: Ziad270 Jun 28, 2006
Version: 1.2.0.18

No SMS.
No Video.
No Forward.

I recently migrate to linux...I will also soon leave Skype. You should not forget Linux Users...because they 'll forgot you too (bye my SkypeIn Number!)... Skype is CrossPlatform...not it's functionnality ! it's sad !

This Linux experience of skype totally change my feeling about Skype !
Rating: "

That is stupid! It's a VoIP not yahoo. Get a grip and grow up. When Skype added those features to the Windows client it started going down hill and the quality dropped.