File Details

File Size
30.9 MB
License
Freeware
Operating System
Windows 7/Vista/XP
Date Added
August 18, 2014
Total Downloads
3,168
Publisher
SnapPea
Homepage
SnapPea
Publisher's Description
SnapPea allows you to manage your Android from your PC. Organize your contacts, music, and pics from the comfort of your desktop. Transfer any file in the blink of an eye. Download thousands of apps for your Android, instant and free of charge. Apps download to the desktop, so you no longer need to worry about your mobile data plan. Send text messages from a full-size keyboard, without touching your phone. Importing your iTunes library to your Android is just a click away.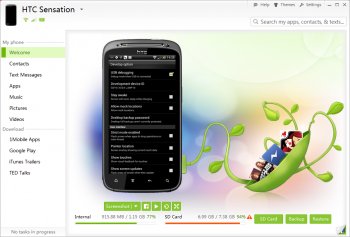 View Full-size
Latest Reviews
some guy reviewed v2.76.0.6535 on Aug 18, 2014
fantastic android based program to manage your phone from your PC,,, 2 star's removed for phoning home ,, use your firewall to block !!!
thomthowolf reviewed v2.76.0.6535 on Aug 18, 2014
I cannot tell you what a wonderful surprise this software was. My wife's phone suffered a sudden crash, but I was able to restore her data and her apps to the new phone in less than 5 clicks of the mouse. She is a photographer, and this program has made getting the images off her phone and onto her laptop where she can adjust them simple and fast, as well as keeping a backup of everything important on the phone. If you have an android phone, you need this software, it really is that simple
inkowyouknow reviewed v2.76.0.6535 on Aug 18, 2014
Installed it > Said it connected > Froze my PC
mikebratley reviewed v2.69.0.5457 on Mar 11, 2014
great
chrispaul reviewed v2.69.0.5457 on Feb 17, 2014
pretty good!
some guy reviewed v2.63.0.4343 on Sep 30, 2013
great manager for a android based phone. Great to back up and edit your contacts, doing every thing off the PC is always easier, will never get use to the touch screen keyboards on the phones just to small for me , this makes it a snap. Import export ect.... 1 star removed for sending browsing history to your servers though, uncheck the box under settings , no phone home...
olivergiving reviewed v2.63.0.4343 on Sep 25, 2013
awesome
RWW reviewed v2.63.0.4343 on Sep 24, 2013
One of those enjoyable programs that just work!
tomkelly reviewed v2.61.0.3557 on Aug 22, 2013
love this one
reddy.shyam reviewed v2.54.2996 on Aug 8, 2013
Just wow! Now I can backup my android phone with ease and live with peace of mind. Kudos to the author.