Publisher's Description
SoftPerfect Traffic Meter monitors your network traffic. You can create a full-featured system for monitoring the Internet traffic of specific users on your home or office network. It works in real time, i.e. its statistics are displayed immediately either graphically or numerically. It can build tabular or graphic reports on incoming and outgoing traffic per day, week or month. Furthermore, these data can be exported into any other program, e.g. Microsoft Excel, for further processing.
SoftPerfect Traffic Meter is very useful for detecting problems on local area networks. You can measure the actual data transmission rates on your network; detect the host generating the most traffic; find the amount of the traffic used by any one application. It can work with any type of proxy server (e.g. WinGate, WinRoute, etc.) or even without one as it has a direct access to the network card of the computer.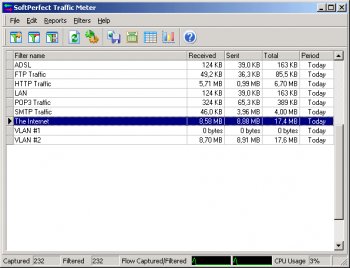 View Full-size
Latest Reviews
Be the first to write a review!
Someone reviewed v on Jul 5, 2022
Pros: 555
Cons: 555
Bottom Line: 555