File Details

File Size
26.0 MB
License
Shareware, $19.95
Operating System
Windows 7/8/10/Vista/XP
Date Added
January 10, 2021
Total Downloads
16,333
Publisher
TreeCardGames.com
Homepage
SolSuite 2021
Publisher's Description
SolSuite is a high-quality collection of 756 solitaire games. All your favorite games are implemented: Spider, Klondike, FreeCell, Pyramid, Golf, Busy Aces, Canfield, Forty Thieves, Four Seasons, Carpet, Flower Garden, Rouge et Noir, Monte Carlo and original solitaires that you cannot find elsewhere.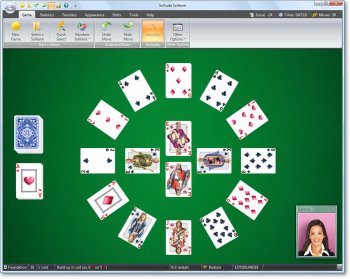 View Full-size
Latest Reviews
TomA102210 reviewed v14.4 on Apr 11, 2014
@gsteele, we know that you and everyone else can get Solitaire games for free. Probably everyone visiting this message board knows that as well. So, a question I have for you is, why are you telling us this? Are you trying to be a spoil sport? Surely you can rate something based on the program itself rather than if it's free or not. Your one star is not a valid rating based on what you say and simply so because you didn't rate the program for any reason than if it's free or not.
The program looks good to me. I gave it a four because many of the Solitaire games are repeats of the same program with perhaps a diferent card display. but the game is the same.

As for the games, I have the one free Solitaire game on my Windows PC that's good enough for me.

And one more time, gsteele. Go some place else and troll. File Forum is a reputable site for reputable individuals to report objectively on and rate programs, not to b**** and moan about something based on whether it's free or not.
gsteele reviewed v13.3 on Mar 26, 2013
$19.95 for something that I can get as freeware
rhoadesb reviewed v10.1 on Jan 22, 2010
SolSuite is great if you like solitaire.

One minor complaint I have is that while the updates are free for a time, they are a hassle to configure.

I would advise trying "123 Free Solitaire" first, (a free cut down version of SolSuite). It gives you a flavor of SolSuite, and is free. Maybe that's all you will want.
zridling reviewed v8.7 on Jul 15, 2008
Very happy to see that they've cleaned up their activation problems to a large extent.
Carlospr reviewed v8.6 on Jul 11, 2008
The best solitaire suite. Great interface and options. You can easily synchronize personal data from one PC to another and keep one single statistics (just a matter of copy some files).

Their FAQ states clearly that you have 1 year of updates but you may need to activate the software again.

The price is also fair.

No problems so far with my two licenses of this game.
zridling reviewed v8.6 on Jun 19, 2008
Buy one copy and be done with this con-artist of a company. Seriously, they can't change the fundamental rules of most games; instead, it seems they just make up new geometric versions of the same over and over. "Too much trouble" is what it should be named.
marksapp reviewed v8.3 on Apr 3, 2008
I have never seen a software company that asks for $20.00 to constantly 'upgrade' little changes to a program. It looks as if the company is making you beholden to there lifestyle with constant upgrades.

The web site asks for emails for each addition, like the image packs; to ask a question; to be a pain in the ass.

I am done with this company, regardless of what improvements were ever made to the game. Excellent game, just sucky business practice.
billweh reviewed v8.0 on Dec 11, 2007
I think the graphics and play are fantastic - I've been using this program since version 7, but I have to say that their upgrade policy is the pitts.

I just upgraded to version 2007 on the 25th of September this year and their site says if you purchased/upgraded on or after the 9th of December - then you get the upgrade for free.

*** UPDATE****
Good news - I contacted their support and gave them my serial number - they have allowed me to upgrade to the new version free of charge. Maybe their site just isn't correct? I can't read apparently - it says if you purchase on or after Dec 9 2006.

Glad to see that's the case - renews my confidence in them. :)
zridling reviewed v7.11 on Nov 13, 2007
Never seen a company that didn't want you to upgrade. Now they're back to a 48-hour minimum wait to obtain a code to run each version update. After you input the new code, you're asked to input old codes, along with your name (again). That makes 3 registrations and 3 activation codes for each upgrade now. This is crazy stupid.

If you're looking for the graphics pack, it's no longer linked on their site, even though they advertise it on the site (idiots). To obtain the latest graphics pack, you must go through the aggravation of multiple activations just like before. Here's the link to get started on wasting your time, and waiting another 48 hours.

Also, the program could use some UI polish. This version doesn't remember its own toolbar settings. Ugh.
SeekingFreedom reviewed v7.9 on Aug 18, 2007
First off, this is not version 7.9 as that has not been released yet. This site has that messed up. This is once again 7.8 released August 10, 2007. If I was rating this site for this program, I would give it a half star for mislabeling. Otherwise, I love solsuite. I've enjoyed playing the games. It's worth the price.