Publisher's Description
Sound Control Plus is a replacement Windows Sound Mixer applet which, together with most of the features of the standard Windows mixer, also allow you to add hot keys to adjust any combination of your sound mixer volumes. Support to control Winamp with a series of hot keys and an On Screen Display is also included.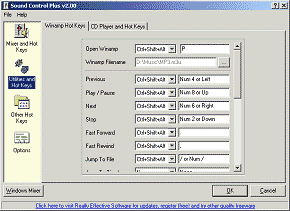 View Full-size
Latest Reviews
httpd.confused reviewed v2.15 on Feb 3, 2005
A really cool utility, which is less prone to conflict than the other utility of the same genre, NirSoft Volumouse. (I do wish that Sound Control had mouse wheel support though...)

Sound Control also has a much more configurable and better-designed on-screen display (OSD) than does Volumouse.

I recommend using Sound Control's high-priority option. Doing so will let you easily control the volume, even if some other application is hogging the CPU. Sound Control (SC.EXE) won't use much CPU, even at high priority, so there's no real performance hit.
scodan reviewed v2.15 on Mar 6, 2004
I love this utility, even though I use it only to adjust my master volume. Being able to change or mute the volume with a simple key combo, and having the on-screen display, is pretty neat. The OSD sometimes causes whatever is behind it to be a bit corrupted once it disappears, but that could be a video driver issue, I guess.
waywardpoet reviewed v1.99a Beta on Aug 12, 2001
I've been using this program pretty much for over a year (been reccomending it to people) as to disprove the 1.90 has been out for ages. look at the version. 1.90a (the little A) he's fixed a few bugs, and this sofware shouldn't be freeware for what it does.
IssacNewton reviewed v1.90 Beta on Jun 11, 2001
Pretty sweet! Nice UI >I think I will keep it : )
dystopia reviewed v1.90 Beta on Jun 11, 2001
I also think that's a great program. With my sound card directly linked to my loudspeakers (whithout amplifiers), hot keys are very usefull.

Just 1 comment to Beta News : the 1.90 release is available since march !!
skull54 reviewed v1.90 Beta on Jun 11, 2001
Excellent Freeware App...
I am impressed...
DMXdogg246 reviewed v1.76 on Jun 1, 2000
This is one of the best freeware downloads you can get. Lots of options and its eazy to use.
dystopia reviewed v1.55 on May 2, 2000
I've waiting so long for this program !!
My soundcard has a direct link to my speakers, and i've no amplifier. So, i need hotkeys.
This soft can be totally discreet, and can call the Windows Mixer.
I've found no fault
PakkMann reviewed v1.55 on May 2, 2000
This is one of the coolest freeware programs I've seen in a while. I being a person with a cordless keyboard has a lot of uses for this. Awesome work!!
If you have any suggestions or problems running SCP please contact me on scp@resw.co.uk

I believe for some people the default download link is slow and may time out so if you have trouble executing the scp.exe make sure you have got the full file.

A mirror 2 link will be added to my home page around the 6/May/00 which downloads direct from my homepages as I have changed ISP and have a lot more bandwidth, this may be quicker than the current mirror 1 link.

HTH