Other Versions
Publisher's Description
Spybot Free Edition is an on-demand anti-spyware scanner. Spybot searches your hard disk for all known types of spyware, adware and potentially unwanted programs. It offers powerful features to remove these threats and thus protect your privacy. It automatically detects: adware networks, attempts at host redirection, registry modifications, and unwanted changes in the browser configuration of Internet Explorer and Firefox.
If an attempt is made to redirect your computer to a different Domain Name Server without your permission Spybot can detect and stop this happening. Spybot also protects your privacy is by removing 'Usage Tracks'.
Spybots team of 'Forensic Detectives' constantly monitor the Internet for new threats and attack vectors so it is important, that in order for software to give maximum protection, it is regularly updated. The signatures for Spybot Free Edition are updated once a week.
Spybot +AV is a licensed version of Spybot that enhances the protection offered by Spybot Free Edition. This product not only protects against spyware but also incorporates an award winning antivirus engine licensed by Bitdefender.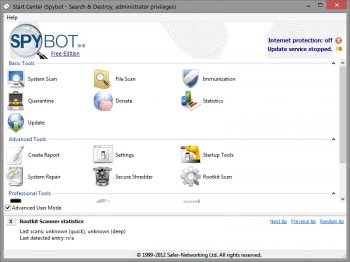 View Full-size
Latest Reviews
olivergiving reviewed v2.1 on Sep 25, 2013
meh
Someone reviewed v on Mar 19, 2023
Pros:
Cons:
Bottom Line:
Someone reviewed v on Jul 5, 2022
Pros: 555
Cons: 555
Bottom Line: 555
olivergiving reviewed v2.1 on Sep 25, 2013
meh