File Details

File Size
3.7 MB
License
Shareware
Operating System
Windows 2000/9x/Server 2003/XP
Date Added
October 31, 2011
Total Downloads
54,434
Publisher
PC Tools
Homepage
Spyware Doctor
Publisher's Description
Spyware Doctor is an advanced adware and spyware removal utility that detects and cleans thousands of potential spyware, ad ware, trojans, keyloggers, spy ware cookies, trackware, spybots and other malware from your PC. This tool allows you to remove, ignore or quarantine identified Spyware. It also has an OnGuard system to immunize and protect your system against hundreds of privacy threats as you work. By performing a fast detection at Windows start-up you will be alerted with a list of the potential threats identified.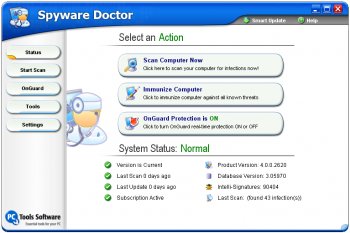 View Full-size
Latest Reviews
CyberDoc999 reviewed v8.0.0.654 on Jun 1, 2011
worst pos ever made
make sure to un-install
AceDublB reviewed v8.0.0.606 on Oct 17, 2010
Spyware Doctor & AV caused my computer to slow to an absolute crawl, over 15 minutes to start up, 5 minutes to load a web page. The worst piece of software c**p ever and to think I wasted $60 and they supposedly do automatic renewals.
I thought there was a problem when I did the Ctrl-Alt-Del Processes and saw pctsdgui.exe using 80% of my CPU when the program wasn't even running.
Removed SD and my PC is back to normal. Over a month of pure hell wondering was was going on.
I will reload every week or so but will never, ever have that piece of garbage on my computer again.
craigun reviewed v8.0.0.606 on Sep 27, 2010
Yes, this is a resource hog and slow. Not recommended!
scliew reviewed v7.0.0.545 on Jul 3, 2010
I created Fileforum account in order to kick this fuxx a** Spyware Doctor.

It is very slow when scanning file although it is good.

I got latest version and 2.6G with 3G DDR800.

I can't even browse internet due to this lagging. My Chrome and Firefox freeze and need to wait very wrong to show any webpage.
My FarmHelper for Facebook even not do its job due to the lag. After disable it, it start to work. What the hell...

What an amazing software... Huh, It worth 1 star. IMAO

Now trying CountrySpy. Scanning OK but don't know the effect.
Modelguy reviewed v7.0.0.543 on Mar 25, 2010
This is total crap. I paid $60.00 for multi pc coverage. One day I'm told I have to update my version. When I did it, the program shut my laptop down completely. Glacial processing, refused to open other programs. By the Grace of God, I made it to the Control Panel and ripped thie pig from my c drive.
I've tried numerous times to log in to pctools to complain, but they won't rec. my password, say they/ve sent me a new one, but never have. I'm considering driving to their HQ and kicking someone's ass!
JustForMyMemory reviewed v7.0.0.538 on Feb 16, 2010
it is amazing spyware-doctor with me, the only twice things suck are HAVE TO BUY TO CLEAN ALL and EXTREMELY SLOW performance on MODERN MACHINES
LakotaElf reviewed v7.0.0.538 on Feb 16, 2010
Did not like this at all, needs work, removed it from my computer, slows everything down. Avoid it, there are other programs out there that are much better than this.
CyberDoc999 reviewed v7.0.0.538 on Feb 16, 2010
made my dual core 3 ghz system very slow....
avoid this program like the plague it is
bobad reviewed v2010 7.0.0.514 on Dec 17, 2009
Nice GUI, seems to work in some cases.

I have to wonder about this program and all the "fake antivirus" programs out there. When you do a search for the fake AV programs such as "Security Tool", (noting more than a trojan), all sorts of pages come up that suspiciously link to Spyware Doctor. If I didn't know better, I would say there's a symbiotic relationship going on. Try it! Do a search for "Security Tool", "System Security malware", "Spyware Guard", or any other fake AV. You will find several links
describing the malware, and links to Spyware Doctor embedded! Coincidence? I really don't know, but it looks suspicious to me!
ballyhairs reviewed v2010 7.0.0.514 on Dec 15, 2009
I just switched to Counterspy, this one is gone totally wrong.
BTW.. Counterspy is also a memory vampire, but at least it has a good detection and it runs fine on 7, just make sure you run it once a while and disable it including its service when not running.
Oh, this one gets 2 stars for its good detection, that's all