File Details

File Size
2.3 MB
License
Freeware
Operating System
Windows 2000/9x/Server 2003/XP
Date Added
March 18, 2006
Total Downloads
1,891,286
Publisher
Star Downloader
Homepage
Star Downloader
Other Versions
Publisher's Description
Star Downloader is a download manager that accelerates your downloads by splitting the files into several parts and downloading them simultaneously. Download speeds are increased further by choosing the fastest mirror sites. You may automatically resume broken downloads if your connection is lost or if your computer accidentally shuts down. With the scheduler, you can download files at certain times of the day. It may also automatically connect to your ISP and hang-up upon completion of downloads.
To help you organize and manage your downloads there is an advanced category system and an integrated unzipping utility can automatically unzip and install downloaded files. Star Downloader also integrates with your antivirus program to automatically scan files upon completion of the download. It supports FTP and HTTP. Proxy is also supported. The clean and simple interface and the multilingual support for over 50 languages makes it easy for everyone to use.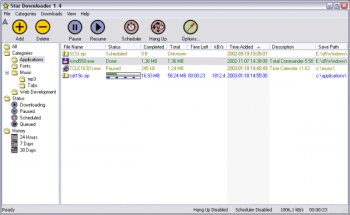 View Full-size
Latest Reviews
chronon reviewed v1.45 on Jul 19, 2006
I just hate the HUGE buttons on the toolbar, there is no option to decrease their size. When I first ran the programa it asked me about firefox/mozilla integration, I answered yes, then thunderbird opens...how cool is that? Maybe a firefox 2.0 beta issue? Another cool problem: when clicking the uninstall start menu item it shows a erro "Could not open install.log file." you click OK and it does not uninstall. I just hate it, never want to see it again, no second chances for this.
yokozuna reviewed v1.45 on May 20, 2006
Great app, never let me down. Simple, but not oversimplified.
osric reviewed v1.45 on Apr 20, 2006
Support for mms?
landfish reviewed v1.45 on Mar 20, 2006
*rpavl* - what on earth are you going on about, never read so much garbage in my life [well maybe a slight exaggeration], and what is a preocess anyway.

Good program, does what it's supposed to do, integration with Firefox etc makes life easy, never had a problem with it over the years I've used it.
rpavl reviewed v1.45 on Mar 20, 2006
Do not download this garbage....locks into registry and unable to uninstall takes over entire preocess. BEWARE.
zridling reviewed v1.45 on Mar 20, 2006
How complicated does a downloaded need to be? How complicated do you want to be? It should be transparent and behind the scenes. You never have to give Star Downloader "permission" to download a file, so in turn it never wastes your time. Great app.
imanino reviewed v1.44 on Dec 25, 2005
Problem I had was trying to disable its associations when I got to download sites that would only function properly with the standard IE downloader or other non-Star forms. It persisted until I wa forced to uninstall and the GUI doesn't really facilitate "temporary" disabling necessities. Truth, be told that is an interfacing problem in several of the free downloading packages I have tried, inclusive of fdm, although the later has definitely improved over time.
hkm reviewed v1.44 on Jul 8, 2005
This is, to date, the last freeware version. If you go to their site, you can either d/l the freeware vers or the shareware vers. [Freew vers also avail at download.com]
DigitalSin reviewed v1.44 on Mar 19, 2005
These guys know how to make good software. Great job! It does exactly what you'd want it to do and not full of memory hogging fluff.

It has my vote!
zorty reviewed v1.44 on Dec 18, 2004
first of all 'net transport' is NOT free. It used to be but it's not anymore.. for quite a while now.

this piece of software is more a competitor to fdm (free download manager) which is - the name already implies it - free as well and quite mature. By the way there's also a commercial Stardownloader Pro version available.. fdm never let me down - no reason for me to switch. Starforce downloader looks promising though.. but I don't like adopting to new GUIs all the time :)