File Details

File Size
1.4 MB
License
Shareware, $2.99
Operating System
Windows 10
Date Added
December 24, 2020
Total Downloads
1,772
Publisher
StartIsBack
Homepage
StartIsBack++
Publisher's Description
StartIsBack++ restores original Windows 10 start menu with all its features: search, pinned and recently used apps, fully customizable settings. Start button and Start menu look and behave exactly as they used to in Windows 7.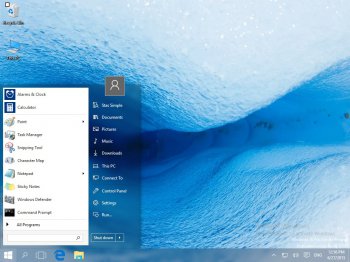 View Full-size
Latest Reviews
cyberguy reviewed v2.7.1 on Sep 23, 2018
There are free alternatives like OpenShell (previously ClassicShell) which is now available with full source code so you can customize (or fk it up) it yourself. Leaving 3 stars because it functions as advertised. I won't give it 5 stars because it does not give you anything beyond the free alternatives.
ghammer reviewed v2.0.6 on Apr 19, 2017
I've used this since it's been out.
ClassicShell is ok, but is somewhat buggy and on occasion, won't initialize.
Never had that with StartIsBack
Plus, how cheap are you? This was like $3 for, let's see, forever!
sweathog reviewed v2.0.6 on Apr 19, 2017
Why? Classic Shell is way better and free
kstev99 reviewed v1.3.2 on Jul 25, 2016
Best in it's Class. Stable, never crashes. Great Program!
CyberDoc999 reviewed v1.3.2 on Jul 24, 2016
StartIsBack is $3 for lifetime
it works perfect
classic shell is sometimes buggy
Sven123456789 reviewed v1.3.1 on Jul 2, 2016
Classic shell is free. I'll stick with that
kstev99 reviewed v1.2.1 on Feb 9, 2016
Great program and Very reasonably priced. I am using it on 4 computers, and it's one of the first things I install.

Although I do like the WIN 10 start menu, I use this when I need to get something done
conleym reviewed v1.2 on Dec 22, 2015
Norton 360 says newest release 1.2 contains a virus:

Filename: startisbackplusplus_setup.exe
Threat name: WS.Reputation.1Full Path: f:\pub\outgoing\startisbackplusplus_setup.exe

Threat type: Insight Network Threat. There are many indications that this file is untrustworthy and therefore not safe

- - -
Hope they get it cleaned up quickly. Love this program; sticking with version 1.18 for now.
CyberDoc999 reviewed v1.1.8 on Nov 23, 2015
Lifetime license - just $3
CyberDoc999 reviewed v1.1.5 on Oct 8, 2015
I have installed it on over 100 computers
it has NEVER crashed .... not once....

I like classic shell but classic shell crashed many many times
sumone what are you smoking?

This is definitely the best of the start menu programs plus it costs $2 bucks