File Details

File Size
8.5 MB
License
Freeware
Operating System
Windows 7/Server 2003/Server 2008/Vista/XP
Date Added
August 20, 2015
Total Downloads
20,647
Publisher
r2 Studios
Homepage
Startup Delayer
Publisher's Description
Startup Delayer gives you the power to optimize your Startup Process by delaying applications from starting up as soon as you log into your computer. By delaying the applications during start up, your computer becomes usable a lot faster. Startup Delayer will then start launching your delayed applications when your computer is more idle.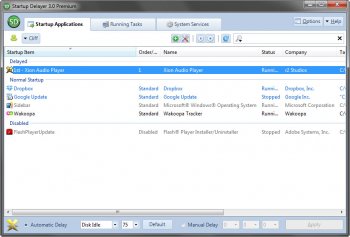 View Full-size
Latest Reviews
DrTeeth reviewed v3.0.324 on Aug 16, 2012
Great program and responsive programmer. This program is excellent. Gives *full* control of the startup process. I have a pro licence - covers all household PCs.
Kipster reviewed v3.0.315 on Aug 16, 2011
Despite what some of the self-proclaimed "experts" claim, I find the utility indispensable for my setup. It does what it is designed to do very well and unobtrusively.
I run Win7 Ultimate but also have a couple of older start-up apps that don't always behave when they start right away. By delaying them a few seconds, they work perfectly.
On my laptop, I might delay my email checker a few to allow the wi-fi to connect.
It may not be for everyone, but why slam the program because you don't need it? I find it very useful.
It does what it claims, it's updated frequently, it's free, and deserves 5 stars..
Keverin reviewed v3.0.309 on Jul 12, 2011
Clearly the author doesn't have knowledge about proper programming and only tries this & that ad infinitum, while overall the loading of the app itself destroys any time you, perhaps, could spare with what it's meant to do, but can't do for ages, and probably never will.
Input Overload reviewed v3.0.302 on May 27, 2011
I'm with gawd21 on this one:- It's possible in 'Services' to delay the start-Up of a program. Unless you are running an ancient PC or you have heaps of start ups, which you should sort out anyway. I have no use for this program. Good PC housekeeping is the answer. However you may think differently - Fair enough.
bobad reviewed v3.0.300 on May 25, 2011
Very useful app. However, it would be more useful if it was portable. Lots of times a computer is infected or not real accessible, and being portable would make it easier to access and get started cleaning it. 1 star off for not being portable, still highly recommended.
Blue Joker reviewed v3.0.299 on May 24, 2011
Great tool !!!
gawd21 reviewed v3.0.298 on May 20, 2011
Why not just stop the programs/services from starting unless you need them? On my desktop, I have 36 process that run when it is started and it is running W7 Pro 64 bit, my other W7 Pro 64 bit laptop has 26. It takes less that 20 seconds for my desktop to boot and about the same for my laptop!
borisf98 reviewed v3.0.296 on May 17, 2011
Like it a lot. Is there any way to start with "Running Tasks" window. It is better task manager than most programs.
stylemessiah reviewed v3.0.296 on May 17, 2011
Been using this for god knows how long and its one of those programs i install on every PC i use.

Great free program that does what its designed to do VERY well, and thats rare.

Makes your system usable more quickly and efficiently than the default "every startup program runs at once" in windows. This is one simple function you would have thought Microsoft would have built in by now.....

Easy 5, deserves higher
CyberDoc999 reviewed v3.0.296 on May 17, 2011
if you know what you are doing this program is a keeper