File Details

File Size
0.1 MB
License
Freeware
Operating System
Windows 2000/9x/Server 2003/XP
Date Added
December 27, 2009
Total Downloads
9,448
Publisher
Jeff Doozan
Homepage
StrokeIt
Publisher's Description
StrokeIt is an advanced mouse gesture recognition engine and command processor. Basically, it's a nifty little program that lets you control programs by drawing symbols with your mouse. It can currently recognize more than 50 unique mouse gestures and can be easily trained to recognize many more. For each gesture recognized, it can execute a user-defined set of commands within the active application. It commands are defined within plugin libraries that can be easily created by third parties to do virtually anything.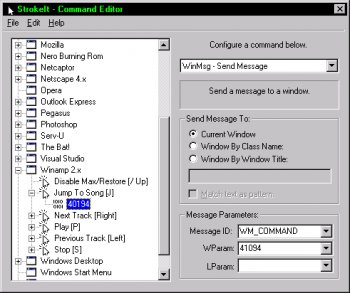 View Full-size
Latest Reviews
tp reviewed v0.9.6 on Jun 25, 2009
great app did not realize there was an update! kewl
cmotdibbler reviewed v0.9.6 on Jun 16, 2009
OMG, I forgot about this little gem. I'm using chrome on win7 RC and really miss gestures, nothing fancy; back, fwd, close tab. This will make life a bit better.
some guy reviewed v0.9.6 on Jun 16, 2009
very cool time saving tool , has a very small foot print. will keep my eye on this one
gaumesi reviewed v0.9.5 on Sep 26, 2007
Stroke-it- simple smart smallest program can't live without it. it is highly configurable can be used with all programs. using it for 2yrs. I wish programs like stroke it, taskbar shuffle should come as default with Windows.
bunghole reviewed v0.9.5 on Dec 6, 2005
A great, cant-live-without-it program!!! People rave about gestures in browsers, but StrokeIt allows gestures in pretty much any program.

Everyone should use this. Small, lightweight and bug free as far as I can see.
insanept reviewed v0.9.4 Preview on Dec 4, 2004
Great program, does its job efficiently and very small (100k download.. and ~1M memory usage)

Definitely a keeper, and just sorry about not having found out about it earlier.
iandol reviewed v0.9.4 Preview on Nov 20, 2004
An AMAZING program - it adds incredible functionality to all programs with great customisability. Mouse gestures, once you invest time to set them up, are the biggest revolution IMO in the UI some time.

This thing has a working set memory use of around 200kB!!!!!!!!! Tight and efficient coding if ever you'll see it...
replica reviewed v0.9.4 Preview on Oct 26, 2004
Imagine using a foreign pc, and pressing the right mouse-button to make a gesture. i allways miss this little program, saves me so much time. using gestures became as common as the "strg+alt+entf" command on windows :-P

> a must have!
Aaroniekins reviewed v0.9.4 Preview on Oct 26, 2004
great prog
interesting name...
Ziad270 reviewed v0.9.4 Preview on Oct 26, 2004
...Sensiva...(alias Symbol Commander)...
Maybe StrokeIt is free (Sensiva v1.52 is free too...)...but i dont like it for the moment...to difficult to configure...with Sensiva i'm able to make really complicated Operations (Showing Folder ordered by Date and using Group...for example).

They have a lot to do before being able to be compared to Symbol Commander. Whats good is: the "Disabled App"
But i really would like to be able to make as far as 4 or 5 combinations of Hotkey easily.

I will follow this app...according to me : not ready.

Still Keep Sensiva v1.52.