File Details

File Size
5.7 MB
License
Shareware, $19.95
Operating System
Windows 7/Vista/XP
Date Added
November 11, 2008
Total Downloads
51,911
Publisher
Sunbelt Software
Homepage
Sunbelt Personal Firewall
Publisher's Description
Sunbelt Personal Firewall is a software agent that builds a barrier between your personal computer and the Internet. It is designed to protect your PC against attacks from both the Internet and other computers in the local network. It controls all data flow in both directions â?? from the Internet to your computer and vice versa, and it can block all attempted communication allowing only what you choose to permit. This makes it an ideal solution for notebook computers that freely travel in and out of the corporate network, facing exposure to various risks as they connect from different locations.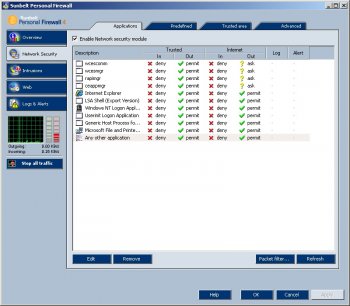 View Full-size
Latest Reviews
INXS9000RPM reviewed v4.6.1861 on Aug 8, 2009
After being a 3 year loyal User of both Kerio and Sunbelt's original CounterSpy (now called PFS and Vipre) I am pissed off with each yearly subscription renewal.

Don't get me wrong: I don't mind renewing my license each year. What I resent is being billed the same price as is being offered to a new User. After supporting the company during its early years, I expect to be offered a discounted fee when renewing my license going forward. Its not as if they incur costs in renewing my license! As a seasoned User I probably never have to use their Support services, unless they introduce unexpected glitches in software upgrades. No. My annual renewal fee is "money for jam"

Sadly, Sunbelt just doesn't get it; And I'm fed up phoning Sales for a discount and being told I'm getting "a one discount". So I'm in the marketplace for a replacement PFS product. I don't respect vendors that don't respect my loyalty.

BTW, I too have experienced Kerio PFS shutting down by itself as described by Bonnie.
Bonnie reviewed v4.6.1861 on Jun 25, 2009
Sunbelt (Kerio) Personal Firewall 4.6.1861 keeps turning itself off for no known reason and with no warning -- I just suddenly notice that its icon is no longer present in the system tray at the bottom of the screen, and can confirm that it's in fact no longer active -- doesn't intervene to ask if I want to allow a program to start a process or not. No root-kit revealers have ever shown any rootkits; spybot search & destroy and avast have never identified any serious problems they couldn't handle, but I keep discovering that Sunbelt personal firewall has been turned off for I don't know how long, and I have been surfing the internet with no firwall protection whatsoever for I don't know how long...!
affe34 reviewed v4.6.1861 on Mar 14, 2009
Warning, if you are having an nVidia card, the current version to this day (2008-12-01 - 2009-03-14), Sunbelt Personal Firewall v4.6.1861 will cause sporadic Windows XP crashes (BSOD) with potential data loss as a result.

Windows crashes in average between 1-15 minutes after the user has logged in and the windows crash dump points squarely at Sunbelt !

Eventough numerous nVidia users have reported this problem to Sunbelt (on their forums and directly via mail), the company has done squat to fix the problem.

They've had close to half a year to get their acts together, so that speaks volumes regarding their customer service and responsiveness.

If you want to trust your data and security to such a security firm with that *quality* of products, by all means use their software. Otherwise I would advice you to look elsewhere.
Banquo reviewed v4.6.1861 on Nov 30, 2008
This was a good firewall once. Not any more, every new version has been crap, especially since that scientology company got their hands on it. Which is yet another reason why I wouldn't buy it no matter how good it was, it's funding their wacko cult.
UJM reviewed v4.6.1801 Beta on Jul 3, 2008
COMODO = I got curious results using this firewall regarding a suspect file "dwmapi.dl" seems like many others did too if you google "dwmapi.dl" (notice the extension is .dl) anyway the problem disappeared as soon as I uninstalled COMODO.

Maybe I'll give this Sunbelt Kerio Personal Firewall a shot!
ahjefri reviewed v4.6.1801 Beta on Jun 6, 2008
Come on Guys, don't you get it,, the company wanted this product dead but in slow motion ,,
banmrk reviewed v4.5.916 on Jan 22, 2008
I do like this firewall, it was one of the best on the market at the time. It worked well with Anti-Vir and was hassle free, don't get me wrong there was times where it was a pain in the arse.

However, I am really disapointed with the company as they still have not got it ready for Vista. The facts are simple, Vista is here to stay (being on every laptop/computer in pcworld (uk) ).

They seem to be the only company that do not adjust to the new change....very strange! I am now using Anti-Vir Security Suite but if Sunbelt was to get off their backside, I would not hesitate to go back to them.

Anti-vir is very good and I mean a very good anti-virus, I've been with them for over 6 years now and would choose no other, but that's what they are good at. Firewall department...well I'm not impressed.

Thanks to everyone for the reviews on here, very interesting
h377r1d3r reviewed v4.5.916 on Jun 4, 2007
up to version 4.2.2 *****
after ***

Sunbelt didn't do anything good with it.

@minasinahanmetehe:i have just spend 3h reading about comodo, it doesn't seam to be that good if you want to define rules. It maybe good for newbie, but...
sanderg reviewed v4.5.916 on May 6, 2007
Tried SKPF again after having tried Comodo and Outpost, both have poor support for Fast User Switching and remote access using Remote Desktop/terminal services.

SKPF gave me a BSOD on fwdrv.sys within 10 minutes after the first boot. I have a HT enabled Pentium IV CPU, and was hoping the current release of SKPF would finally have solved the issue.

Combined with the nonresponsiveness of their support service, this is a thumbs down.
EMkaEL reviewed v4.5.916 on May 1, 2007
strangely the readme file didnt change from the last version!

http://www.sunbelt-softw...nal-firewall-readme.txt

anyway, im gonna take the oppurtunity to get rid of the weird comodo and go back to kerio!

/edit
if you do an internal update, you get v4.5.918.