File Details

File Size
8.2 MB
License
Shareware, $12.99
Operating System
Windows (All)
Date Added
January 11, 2021
Total Downloads
3,981
Publisher
PGWARE
Homepage
SuperRam
Publisher's Description
SuperRam is a tool for all which allows you to maintain and manage memory the right way. No modifications to your hardware are made and all adjustments and settings are done in an easy to use interface. Most 'other' Ram/memory modifiers promise that they work while you notice no difference at all in performance.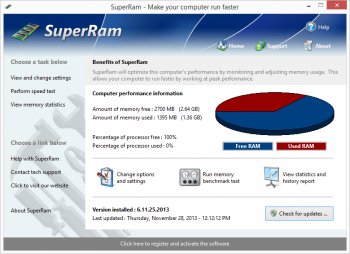 View Full-size
Latest Reviews
Pkshadow reviewed v7.4.30.2018 on May 1, 2018
Agree with all comments, waste of money. Use a free one if really have to.
All modern OS's look after the ram with no issues unless you should not be running Win10 just because it told you you could.
On top of that with Norton Safe Web installed if you go to the their site :
http://www.pgware.com/products/superram it is blocked with a warning for there game assist which is prob the same thing as this :
http://www.pgware.com/downloads/gameboost.exe
with the why here :
https://www.symantec.com...-1207-99?vid=4294907775
roj reviewed v5.4.24.2006 on Apr 26, 2006
You people still have the cojones to post this crap here?

Guess you don't learn easily - neither does BetaNews.

There is no such thing as a "good" memory manager under Windows - they ALL are con jobs.

ONE star for a a tipoff "product".
photonboy reviewed v5.9.26.2005 on Sep 29, 2005
There are no good memory management programs anyway. At best, you waste money. At worst, you slow down your system, introduce errors AND waste money.

I say it again, there are NO GOOD MEMORY MANAGERS.
eventhorizon reviewed v5.8.8.2005 on Aug 14, 2005
This app will actually slow down your machine, due to the fact that to "free up" memory, it simply fills up system ram, which forces Windows to swap out apps to the pagefile. While this does end in more free physical memory, many running programs have to be loaded back into ram from the pagefile (on the hard disk). Windows does all of this automatically, and this program is totally useless except for extremely rare situations where you *need* to swap out your apps. This program is a pure scam.
Dirk van Hoofen reviewed v5.8.8.2005 on Aug 9, 2005
This software is a little fake for the user and the pocket money!
It works not really, play a little bit on your memory-that#s all.
Metshrine reviewed v5.7.25.2005 on Jul 26, 2005
Support for windows vista? WTF? How can you support something, aside from possibly a longhorn alpha, that doesnt even exist yet? People really need to beware of shamware like this where you think your getting a utility that does something, but really its just stealing your money. I can make a pretty interface like this, add a slider or a memory graph, and claim it does stuff to.

My opinion, keep away from shamware, including this
Metshrine reviewed v5.6.27.2005 on Jun 27, 2005
Yeah, anyones really gonna upgrade to a new release just because it has updated anti-piracy code. Why would anyone pirate this? This, along with all other programs by this dev, dont give you any info as to what they do to your system. And Until that day comes, I rate this a 1
darthbeads reviewed v5.6.13.2005 on Jun 14, 2005
fraud. fraud. fraud. complete and utter garbage, as is everything PGWare produces.
DIRKES reviewed v5.5.30.2005 on Jun 1, 2005
Robish - use FreeMem (FREEWARE) if you think you nedd really a tool like THIS.
ManfredFuchs reviewed v5.5.23.2005 on May 26, 2005
i say the same : fraud!