Publisher's Description
Sygate Personal Firewall is more than an advanced, user-friendly personal firewall, it's a bi-directional intrusion defense system. It ensures your personal computer is completely protected from malicious hackers and other intruders while preventing unauthorized access from your computer to a network. In essence, it makes your protected machines invisible to the outside world. That makes it a must-have security measure for any PC that connects to a private network or the public Internet. Once you've been compromised, every other network you connect to is at risk; including your home, business and online bank accounts. No matter where you use your computer, whether remote or behind a corporate firewall, whether dial-up or an always-on broadband Internet connection, it gives you complete confidence that your precious business, personal, financial and other data is safe and secure. If that isn't enough, it includes advanced active-scan vulnerability assessment to pinpoint your weaknesses and fine-tune your security policy.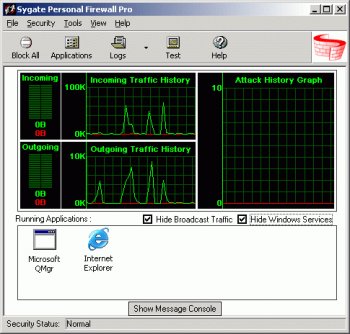 View Full-size
Latest Reviews
Beetleguise reviewed v5.5.2710 on Jan 16, 2009
Very good firewall, easy to configure, if you can't figure it out it's still easy because of the pop up windows asking your permission and how to handle connections if temporary or permanent.

Sygate was bought out by Norton/Symantec and is no longer being developed, however there was very little changes with each version, you can now get the latest Sygate Personal Firewall Pro v 5.6 for free, just google and look on all those download sites like tucows, cnet, download.com and more.

All you need in a firewall without the extra crapification to slow you down. of course like most firewall it may drive you batty while you train it.
betasun reviewed v5.5.2710 on Jun 7, 2007
it does not work with my Xp SP2 ,any advise ?
McAleck reviewed v5.5.2710 on Feb 17, 2007
f*ck Symantec!
mr_mr_007 reviewed v5.5.2710 on Mar 24, 2006
It's almoust perfect, but it has one minus.
It does not have a securety protecton licke Outpost althugh all that it's is TWICE AS GOOD as Outpost.
Sygate is almoust perfect.
wari reviewed v5.5.2710 on Dec 30, 2005
Symantec announced that Sygate is no longer supported. That is sad considering that Sygate kicked Norton Firewall's A** but then again I guess technical excellence will always be secondary to money.
kashin reviewed v5.5.2710 on Oct 10, 2005
Am I the only one pissed off about big corporations buying smaller companies that make good products? Macromedia and Adobe merging was bad enough. *puke* Now I find out Corel bought my favourite image editing software, Paint Shop Pro. *yikes* I used to be a big fan of Sygate (as well as Ghost), but since Symantec bought them, I won't touch it with a 10 foot pole. Symantec is notorious for buying smaller companies and ruining their products. I have no doubt that Sygate will be no exception.
mansa reviewed v5.5.2710 on Sep 17, 2005
I have tried a lot of FW and every time I return to Sygate I don't know why, perheps it's the easiest and the more effiecient one
I think that's the only FW that satisfies you.
And now that symantec acquires it, it dies and will become less and less reliable : unfortunately :(
Jeffsoft reviewed v5.5.2710 on Aug 20, 2005
it's really sad to hear about this.. hope that Symantec doesnt break it
robmanic44 reviewed v5.5.2710 on Aug 18, 2005
I'm a big fan of Sygate Pro and have used it for years. However, since it has just been acquired by Symantec, I guess that will soon end. Price goes up, quality comes down.
dimitrator reviewed v5.5.2710 on Jun 26, 2005
Highly recommended!
I have deployed the Syagate Personal Firewall protection for a few years and up to now it has denied all of the malicious worms' attacks. Although I don't have permanently installed an antivirus software my "holy" WinXP proves to be healthy (I don't use the IE either).
In comparison with ZoneAlarm, Sygate's Firewall does not possess the nasty memory leaks of the ZoneAlarm. Furthermore, its clean interface appeal far more to me than the colourful bla-bla tabbed one of the ZA. In addition, the incoming and outgoing history graphs provide more info than the ones of the other firewalls I have tried. However, ZA is also a bulletproof solution, but these memory leaks .....