File Details

File Size
2.0 MB
License
Freeware
Operating System
Windows 7/8/10/Vista/XP
Date Added
April 22, 2016
Total Downloads
294,752
Publisher
Mister Group
Homepage
System Explorer
Publisher's Description
System Explorer gives you detailed information about Processes, Startups, Explorer, IE Addons, Uninstallers, Windows, Services, Drivers, Connections and Opened Files. Action History for monitoring processes activities. Making of Registry & Files snapshots for easy comparing of system changes. Result of comparation is displayed in tree view and text list. Can be used for analysation of product installers/uninstallers (like Total Uninstall). Performance graphs for monitoring usage of system resources in time. Easy check of suspicious files via VirusTotal. Easy search details about file/process via online databases. Easy access to System Utilities.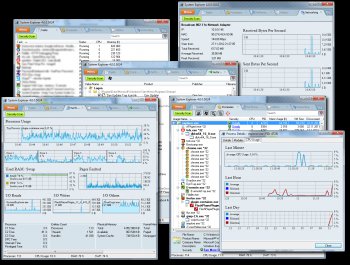 View Full-size
Latest Reviews
DKDude reviewed v7.1.0.5359 on Jul 26, 2016
Absolutely a must have tool, best of it's kind.

CyberDoc999 is a troll, avoid taking him serious.
darkwzrd1 reviewed v7.1.0.5359 on Apr 22, 2016
CyberDoc999
Is this something mentally wrong with you? There is absolutely no spyware in this software. This is one of the best Task Manager replacements next to Process Hacker.
CyberDoc999 reviewed v6.3.0 on Jan 21, 2015
spyware avoid this
DKDude reviewed v5.9.0 on Jul 17, 2014
The king of task-manager tools.
geomelen reviewed v5.8.0 on Jun 24, 2014
There are a few tools that provide info on services and processes and other stuff but nothing like System Explorer .... Autoruns, Task, Performance you name it and it's there for you to analyze what's going on with your Windows OS. System Explorer has it all and quite easy to understand if you are a little savvy....
HydrantHunter reviewed v5.6.0 on May 13, 2014
Sadly no longer a viable replacement for Task Manager as it requests elevation on launch (instead of just launching w/o prompt as in previous versions). Strangely, this elevation request isn't for admin, so you *still* have to elevate to Admin as necessary. The extra, completely unnecessary, elevation prompt on launch adds a useless, time-wasting step which takes this program too far backwards, imo. Without the ridiculous prompt, this used to be a no-brainer replacement for task manager and an easy 5 stars. Now it's tough to give even 3. I don't understand how the developer(s) thought adding an unnecessary elevation prompt was a good idea...
kstev99 reviewed v5.0.3 on Apr 20, 2014
This is what Windows Task Manager should be. It's like task manager on steroids. Great program!
dhry reviewed v3.9.9 on Nov 21, 2012
With the new option to set the row height in v3.9.9 this program just became perfect. Less resource usage and more features than Process Explorer. 100% indispensable utility.
JRice reviewed v3.9.7 on Oct 15, 2012
great tool one can say anything against
DKDude reviewed v3.9.6 on Sep 17, 2012
A must have, nothing bad to say about this program.