File Details

File Size
1.7 MB
License
Freeware
Operating System
Windows 2000/9x/Server 2003/XP
Date Added
August 8, 2008
Total Downloads
141,892
Publisher
Pegasys, Inc.
Homepage
TMPGEnc
Publisher's Description
TMPGEnc converts *.AVI files to MPEG1, the format which is used in VideoCDs. Using a variety of options in TMPGEnc, you can compress your video file in high quality. It enables you to adjust bitrate, quantize matrix, GOP structure, interlacing and many other parameters so that you can create the most appropriate movie file depending on your needs.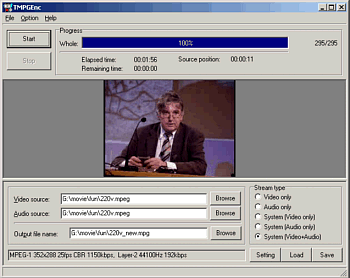 View Full-size
Latest Reviews
matgmail reviewed v2.524.63.181 on Nov 15, 2004
well, i love this app. is small, powerfull and does what its says and a lot more.

the bad thing is that the makers do not update it very much, instead, they concentrate on the Xpress version that i hate.

Where is the link to the plus verion? i wanna update! There is only a jap version ...
CyberSmith reviewed v2.521.58.169 on Sep 28, 2003
the best just get's better.

although i think the correct version is 2.521.58.169
bgronas reviewed v2.520.54.163 on Aug 2, 2003
This IS the best program for it's purpose. I use it together with adobe Premiere 6.5

JUST THE GREATEST!
weed reviewed v2.520.54.163 on Jul 21, 2003
I have been using the free trial of the AVI to MPEG2 version and the one that coverts MPEG2 to DVD file structures. This stuff is absolutely the BEST. It actaully produces DVD's from VHS tapes that look better than the original VHS tape. Will be purchasing both soon. ***** Rating
onetouch reviewed v2.520.54.163 on Jul 21, 2003
Been useing this one since the early beta days myself. Allways a favorite of mine.
brazen weep reviewed v2.520.54.163 on Jul 20, 2003
Been using this for a long time, and it works great.
blackbart reviewed v2.513.53.162 on Jun 13, 2003
This program is a must for anyone converting video, it will allow you to fit 90 or even 100 mins of good quality video onto one 80min vcd, will help you fix audio sync problems and the mpeg tools alone are worth the download. An excellent program I cannot rate highly enough and freeware too :-)
ConceptJunkie reviewed v2.512.52.161 on May 23, 2003
DOn't all the misinformed reviews below mislead you.

TMPGEnc is a really good _FREE_ conversion utility. The freeware version allows you to encode and manipulate MPEG-1 video, and a 30 day trial version of MPEG-2 encoding. The version you puchase has MPEG-2 support, and I believe DVD authoring support. I've been using TMPGEnc since its early alpha/beta days and it works well.

Go to http://tmpgenc.net to find out about the free version.
Aires reviewed v2.512.52.161 on May 23, 2003
bbhermit: There is a freeware version and there is a shareware version. Does it work - Yes it does. Does this software come & go - No. Download the free version to try and stop whinging because you downloaded the wrong version. It's an excellent piece of software and it's your loss - not ours or theirs.
bbhermit reviewed v2.512.52.161 on May 23, 2003
On startup, the program said it was a 14 day trial, after which time, if you wish to continue using the program, you must purchase a license. That is NOT freeware! That would be shareware, or trialware. I would not have wasted my time if I had know that. This promotional 'stunt' is used by many 'unsucessful' software authors. Does it work? Apparently not, as they come and go quite regularly.