File Details

File Size
0.4 MB
License
Open Source
Operating System
Windows XP
Date Added
August 8, 2006
Total Downloads
13,334
Publisher
NTWind Software
Homepage
TaskSwitchXP
Publisher's Description
TaskSwitchXP provides the same functionality as the existing application switching mechanism in Windows XP/2003 today. When the hotkey combination Alt + Tab (or Alt + Shift + Tab) is pressed, this program generates the list of open windows in which the end user is working. This list of open windows is presented as a group of icons, with one outlined by a selection rectangle. As the end user continues to hold the Alt key and presses the Tab key, the selection rectangle moves to the next (previous) icon. The selected icon represents the application that Windows will bring to the foreground once the Alt key is released. In addition to displaying an icon list, however, TaskSwitchXP show also a thumbnail preview of the window that will be switched to.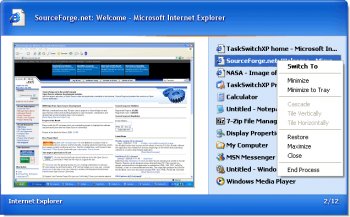 View Full-size
Latest Reviews
guti reviewed v2.0.11 on Dec 30, 2007
A must.
stisev reviewed v2.0.11 on Mar 15, 2007
TaskSwitchXP is hands down the best program in its class.

I'm giving it 3 stars because the program does NOT give you the option to store the settings in an .INI file. It stores them all in the registry. ugh!
comeoffit reviewed v2.0.11 on Oct 9, 2006
RE: Previewing minimized windows...

Q: On the preview of minimized windows only the window bar is visible. How about displaying the last full-sized preview?

A: If it is done, TaskSwitchXP will work not so fast and can corrupt the everyday work of your system. Do you really want it? Look at TaskSwitchXP forums and feature requests for more information.
guidorobben reviewed v2.0.11 on Aug 9, 2006
Not showing minimized windows is a bug in the OS. The api calls used do not support this.

This is a must have app.
photonboy reviewed v2.0.10 on May 24, 2006
Excellent.
Can't see minimized windows? I'm not sure that a third party program can address this issue. It's likely that the maximized windows are stored in Video Ram for quick access and the data is dumped when minimized. TaskSwitchXP can only access what is available.

I'm not certain of the exact details but I'm almost positive that the Operating System would have to be re-written to fix this. Maybe Vista will allow this.
gate1975mlm reviewed v2.0.10 on May 22, 2006
Its a good idea but you can not see Minimized windows.

If they could add that I would use it.
ArabianNight reviewed v2.0.10 on May 22, 2006
This program is excellent. However, I don't understand why they can't embed it into explorer instead of making it a seperate process, using more memory.
nefarious1 reviewed v2.0.9 on May 20, 2006
It is excellent, and I highly recommend it. Uses very little CPU time and memory when not actively being used. Once configuring and getting used to having it installed, I cannot stand it when it is not running. Very nice..... Stop reading and download NOW! :)
citizen420 reviewed v2.0.9 on Feb 6, 2006
nice and fast, i recomend it.
dejavu reviewed v2.0.9 on Feb 6, 2006
Yeah, nice software! Thank You!