Publisher's Description
Teleport Pro is an all-purpose high-speed tool for getting data from the Internet. Launch up to ten simultaneous retrieval threads, access password-protected sites, filter files by size and type, search for keywords, and much more. Capable of reading HTML 4.0, CSS 2.0, and DHTML, it is the only webspider that really finds all of the files on all of the sites. With side image map exploration, automatic dial-up connecting, Java applet support, variable exploration depths, project scheduling, and relinking abilities, it is quite simply one of the best there is.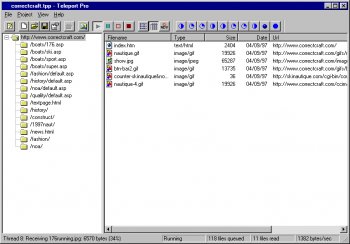 View Full-size
Latest Reviews
Absolutely outdated, can only fetch basic HTML only websites without flash and JS links.

Use Offline Explorer for anything serious.
mcsamson reviewed v1.62 on Nov 2, 2010
Quick and easy to use, and was the best for many years, but it does not seem to be updated anymore. I'm migrating over to NCollector Studio http://fileforum.betanew...tor-Studio/1251666292/1 which seems to perform even better.
Guzzler reviewed v1.62 on Apr 9, 2010
The program is limited to 40 uses, and can save a maximum of 500 files per project. Also, it doesn't have a built-in browser, but it opens all pages with your default one, and since it's the one you constantly use, I don't think this is a major fault.
Quite useless nowadays, doesn't support JS links, cannot download Flash content, etc.

Use Offline Explorer if you really wanna save a website to your HDD.
SuzzyWoozy reviewed v1.52 on Mar 11, 2008
Verry good 'debugged' opinion bellow: there are other free tools that do this just fine, like this one does in fact.

zridling: please add new flaming reviews here, rated 5... I see most of the reviews are yours, but we need more to get this to BNPick.
zridling reviewed v1.41 on Jun 23, 2006
Wow, I'm surprised. The apps debugged lists are minor league compared to Teleport Pro. Perhaps he hasn't explored the program's more advanced features? I've yet to find anything Teleport Pro can't replicate on my HD. Anything. An invaluable and educational tool for capturing content and learning how complex websites are structured.
debugged reviewed v1.40 on Feb 10, 2006
no the response to this app fails and considering that trying to push it onto I.T Staff and schools.
i choose to head over to my favorites httrack, wget, web downloader , these tools do same offline browse and zipping software on the internet for free and some time better then teleporter if you consider to buy this app check out the rivals in this sector (offline Browser's).

and some members seem not like criticism or fair judgement that why i have dropped the rating to 3 bars.
zridling reviewed v1.36 on Sep 29, 2005
1.37 is now available.
zridling reviewed v1.34 on Jul 25, 2005
Teleport Pro just keeps getting better and better and better!
zridling reviewed v1.29.2091 on Feb 13, 2005
I've enjoyed Teleport Pro for years, but like httpd, configuring it for some website results is difficult. And the difference between using the wizard and configuring a project yourself is distinctly different. But other offline browsers are far more difficult to configure in my experience. Teleport Pro works best when you simply download the entire site to your HD, and this is great when you have short subscriptions to photo or news/research sites. Until someone comes close to making a better offline browser, Teleport Pro is the best.